Companies and solopreneurs need to integrate different work management systems in order to organize processes and gather data. Since configuring an integration manually is complicated, teams are looking for no-code integration solutions to ease this burden.
And with automation driving innovation in the modern workplace, no-code integration software makes it easy to automate and optimize operations.
We'll discuss no-code integration in detail, exploring its importance and challenges. Continue reading to find out the best no-code integration solutions for automating your business.
Jump to the section you find most relevant:
What is No-Code Integration?
The concept of no-code integration involves using software to connect multiple apps, software, or platforms without writing any code. You can implement no-code integration using drag-and-drop features and default templates.
With usability becoming a core value in user experience, most integration service providers are building solutions that require as little coding as possible. This cultural shift has led to concepts like no-code and low-code.
Code-Based Integration vs. Low-Code Integration vs. No-Code Integration: How are they Related?
Code-based integration involves the exclusive use of a scripting engine to configure syncs. This option is a no-brainer for seasoned developers who want absolute control over their integrations. It gives them the leeway to play around with mappings and configurations for advanced use cases.
Low-code integration is a variation of code-based integrations that combines scripting with accessibility features on a visual interface. Users of low-code integration tools get to write some code to change the default properties of the prebuilt integration functionality. They are suited for those who want to optimize processes and eliminate human error in long codes.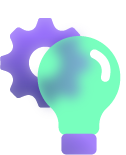 However, no-code integration strictly keeps you away from expressions, methods, and variables. As the name suggests, you won't need to write any code to get your integration to work. Users without programming backgrounds can use no-code integrations to configure syncs instantly.
Generally, you'll need to learn some programming language native to the code-based or low-code integration solution in order to make changes to default sync configurations. But with no-code tools, you won't have to bother with that.
Why Use No-Code Integration Solutions?
Now that you have enough information about no-code integration, let's explore why you need it.
You can set it up easily
With no-code integration tools, anyone can configure syncs with consummate ease. By dragging and dropping a few components on the visual interface, you will be able to sync data between two management platforms instantly.
It saves time
Since setting up a no-code integration is fast, you can save time and invest your efforts in more pressing issues. For instance, you won't need to start learning a new programming language — or looking for someone who does — before you can sync multiple Jira instances.

Just map the correct fields with your no-code solution and call it a day.
It simplifies troubleshooting
When you write code, you have to debug it and maintain it to ensure it is running correctly; this also introduces troubleshooting problems when looking for the source of the issue. But no-code ISPs usually provide error pages to help you detect the source of the problem as soon as it occurs. As a result, you can fix them without scrolling through crappy documentation.
Anybody can use it
No-code integration solutions are beneficial to business owners because they eliminate the need to train an entire team of developers. Since no programming language is involved, you can host a single training session for your employees, and they can work independently going forward.
It saves you money
The time you spend troubleshooting and crushing bugs is useful elsewhere. And that's where no-code solutions can help; you won't need to invest in testing tools since you are not writing any code.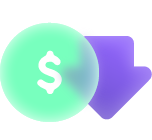 You get to save money because you won't be paying coders to work on your use case.
Drawbacks of Using No-code Integration Tools
The main challenge of using no-code integration is that you sacrifice autonomy at the altar of usability. You can only work with pre-built templates, which limits the applicable use cases.
In addition, no-code IPaaS vendors own and maintain proprietary software. As a result, you are at the mercy of the vendor whenever a feature malfunctions or breaks down completely. And since you cannot write custom code to control what's being synced, you are stuck with the defaults.
Seeing that you don't have much wiggle room with no-code integration tools, you will struggle to scale your infrastructure as more complex systems and data become available. This also affects productivity, performance, and user experience.
7 Things to Consider When Choosing No-code Integrations
Before choosing an integration solution, here are some factors to consider.
Pricing
When shopping for a no-code IPaaS solution, cost considerations should always be the first item on your list. Look for vendors that provide a suitable pricing model for your business. Some common pricing variations include:
Per-user: you have to pay for every user working with the integration.
Pay-per-instance (installation): you have to pay for every unique installation of the no-code solution on a work management system or operating system.

Apart from the price on paper, you also need to check out additional fees for maintenance, support, and miscellaneous costs. This will help you align your needs with the company's budget.
Customer Support
You need to choose no-code integration platforms with responsive customer support. This will come in handy when your instance malfunctions. Most times, the level of support you receive depends on the service level agreement (SLA) you signed. So make sure you are getting the best value for your money.
Customization Features
Look for platforms with as many features and pre-built templates as possible. This high level of customizability will also afford you more flexibility when mapping fields for specific use cases The more customization features, the simpler your integrations and syncs.
Ease of Use
No-code integration solutions should be easy-to-use by default, but usability is a spectrum. Some platforms come with user interfaces that are not user-friendly, which makes them a nightmare to use.
So find no-code integration platforms that a tech newbie can use without breaking a sweat. You need to ensure the key features have a flat learning curve. To find out more, you can always request a product demo.
Compatibility
If you are working with multiple work management systems, you must ensure that the no-code integration tool you choose is compatible with them. For instance, some platforms work exclusively for Jira-Jira integrations, while others are more versatile. So figure out which one meets your business needs and use it to integrate your CRMs and ERPs.
Security
Before choosing an integration tool, always check out how they handle security. Here are some security features to consider:
Compliance certifications (SOC 2 and ISO 27001)
Encryption (SSH, AES, RSA, 3DES)
Multi-factor authentication (MFA or 2FA)
Tokenization (JSON web tokens, UUID).
Audit trails and access controls
Apart from these features, you must also confirm how the prospective vendor handles disaster recovery. Look for error report dashboards and troubleshooting consoles.
Automation
Automated integrations allow you to import and process data automatically. No-code integration platforms rely on automation to improve productivity by boosting the speed of syncs. This automation usually consists of triggers that initiate data synchronization once the conditions are met.
10 Low-code and No-code Integration Tools
We've gathered a list of no-code and low-code integration tools for businesses. Here are the 10 best no-code tools for automating integrations.
1 – Zapier
Zapier is an automated integration solution that allows businesses to automate workflows (zaps) and sync their work management systems. This tool provides an interactive interface for business owners in IT, finance, and other spheres.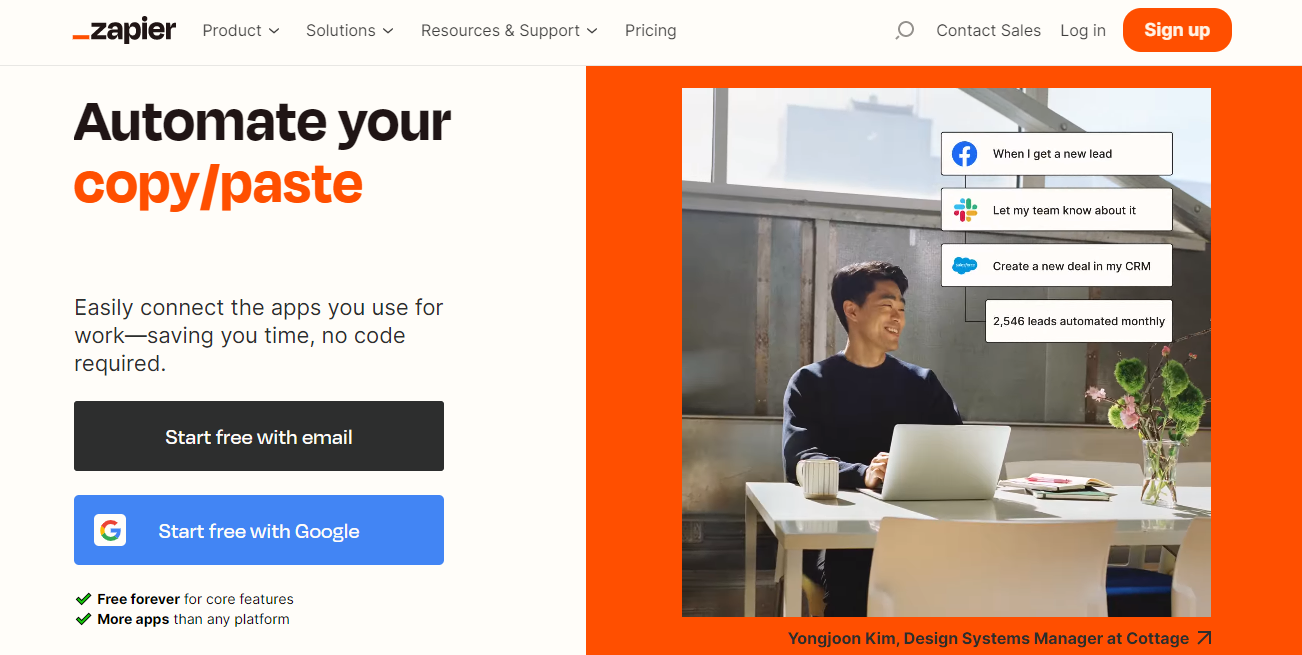 With Zapier, your zaps are protected using 256-bit AES encryption and TLS 1.2. Enterprises can also implement company-wide SSO, which relies on SAML 2.0. You can also use access level controls and app restrictions to manage who has access to what.
As a premier ISP, Zapier supports integration with OpenAI (GPT-3 & DALL·E), Google Apps, Instagram, YouTube, and over 5000 other apps. You can also use internal Zapier integrations like Paths, Filters, Webhooks, and Multi-step Zaps.
Pricing
Free
Starter – $19.99 monthly
Professional – $499 monthly
Team – $399 monthly
Company – $799 monthly
2 – ONEiO
ONEiO is a cloud-native solution that provides an Integration Automation platform that combines AI capabilities to manage tasks and workflows.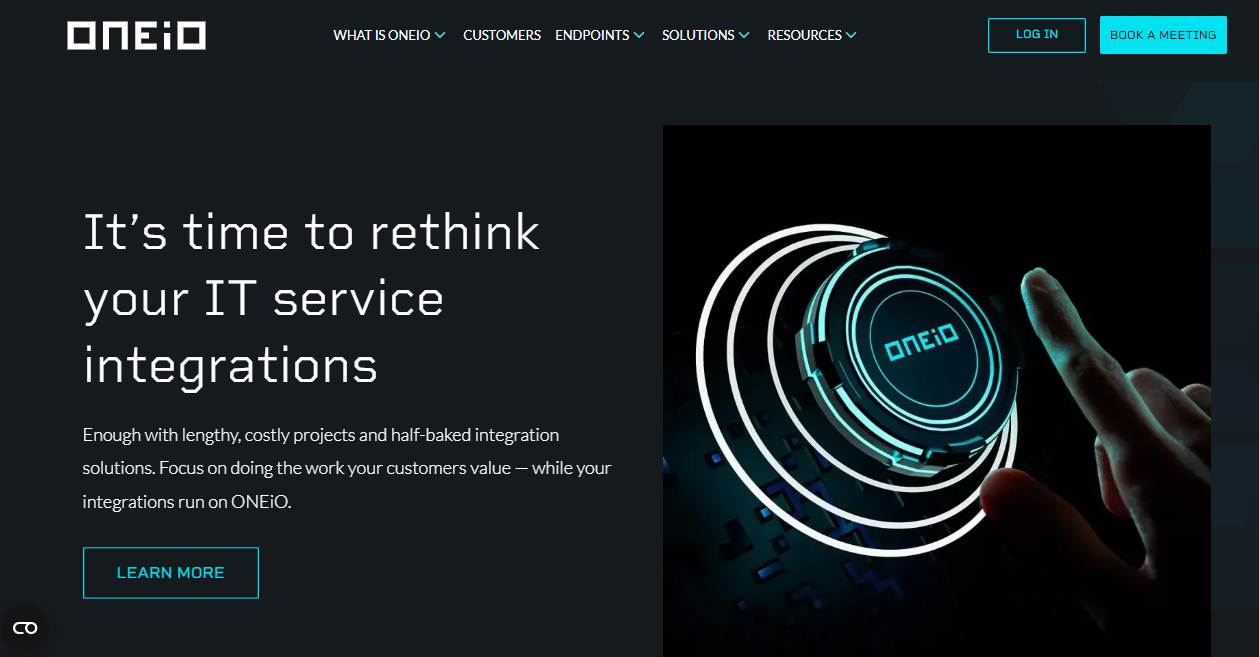 As a cloud-based IPaaS provider, ONEiO's core infrastructure is built on AWS. The available security certifications include SAS70 Type II, ISO 27001, and PCI DSS Level 1. ONEiO protects all outbound and inbound data with authentication standards such as Basic Authentication, API Keys, and OAuth.
ONEiO's no-code integration solution can connect different endpoint types, including Slack, Zendesk, Zabbix, Azure DevOps, Hubspot, and Jira. You can also work with JSON, XML, CSV, and other text-based file formats.
Pricing
ONEiO has two pricing plans: Service Provider and Enterprise. Both of them are available on a pay-per-use basis. So you need to contact the ONEiO team to negotiate the subscription cost.
3 – Workato
Workato is an automation solution that helps you integrate business workflows across on-premise and cloud applications and services.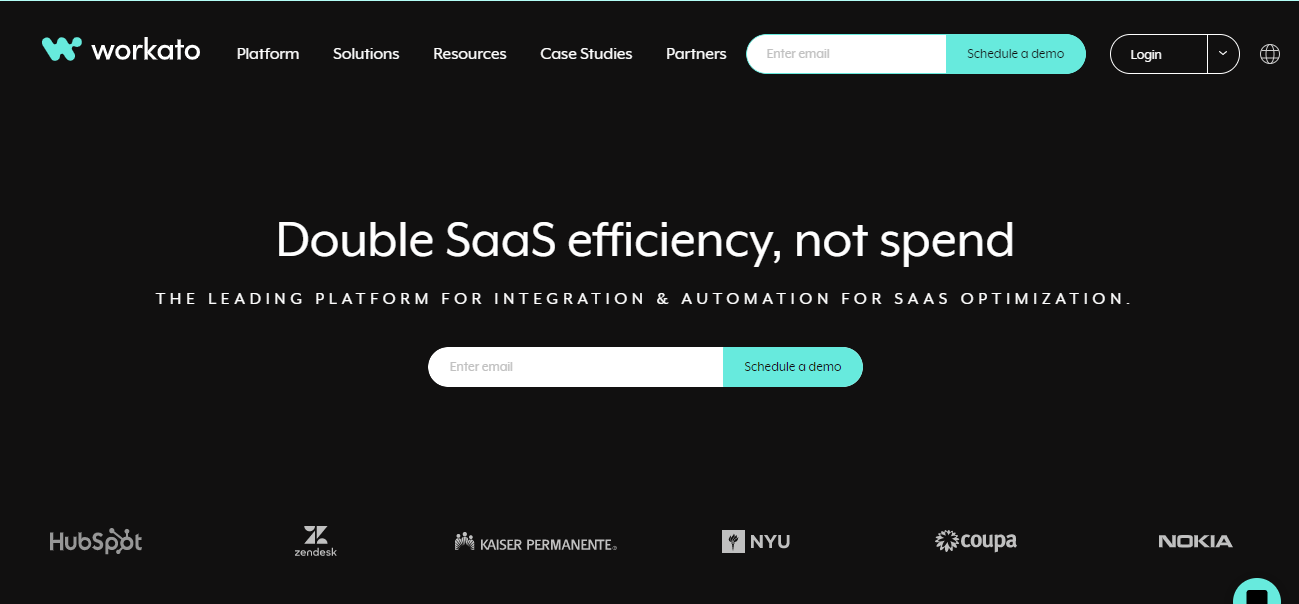 Some security features available to Workato users include the following:
IP allowlist
Supported cloud regions
Encryption key management
AWS IAM role authentication
Workato also comes with pre-built connectors for Wrike, Zendesk, Salesforce, Oracle, Adobe Cloud, AWS Lambda, OneDrive, etc.
Pricing
Workato also uses a pay-per-use pricing model under two plans: Workato For Your Business and Workato For Your Product.
4- Make (Integromat)
Make, formerly known as Integromat, is a no-code integration solution that infuses automation to create and manage workflows. It connects with apps, services, social media platforms, work management systems, and marketplaces like Twitter, Mailchimp, Stripe, Shopify, Trello, and Airtable.
When working with Make, you get free automation templates for syncing and customizing workflows across multiple platforms.
Some security features that are available to Make users include SSO, access control, VPN access, AES-256, TLS (versions 1.2 and 1.3), and AWS key management service (KMS). The core infrastructure is compliant with ISO 27001 and SOC 2.
Pricing
Free
Core – $10.59 monthly ($9 billed annually)
Pro – $18.82 monthly ($16 billed annually)
Teams – $34.12 monthly ($29 billed annually)
Enterprise – Contact sales for more information.
5 – Microsoft Power Automate
Microsoft Power Automate is a service that enables users to automate workflows, integrate data, and share files between several apps, services, and platforms. Power Automate has helped companies reduce time-to-market by 33%, proving its status as a market leader in integrations.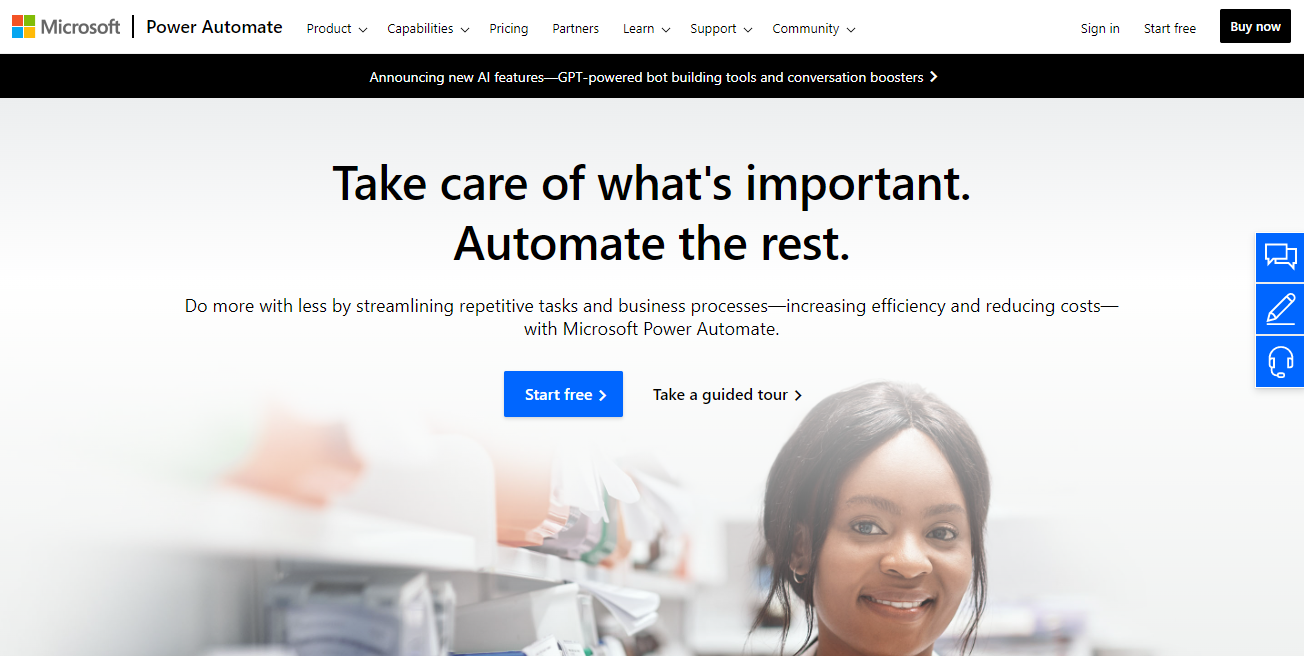 This low-code solution gives you access to AI Builder's generative AI, which you can use to create language models for advanced use cases. You can also link data from platforms like GitHub, Slack, Google Drive, Salesforce, and Microsoft Tools like Azure DevOps and Dynamics 365.
Pricing
Power Automate has a per-user subscription plan and a per-flow plan. Here is the pricing range.
Per-user plan (license by user) – $15 per user/per month
Per-user plan with attended RPA (license by user) – $40 per user/per month
Per-flow plan (license by flow) – $500 per month
Businesses with an ongoing Azure subscription can also pay for every unique flow run via premium connectors for the following prices:
Per-flow plan (license by flow run) – $0.60 per flow run
Per-flow plan in unattended mode (license by flow run) – $3 per user/per month
You can also get the AI Builder for $500 per unit/month. To find out more details, check out the Power Automate pricing page.
6 – ZigiOps
ZigiOps is a no-code integration solution that automates workflows, supports advanced mappings, and synchronizes data from multiple sources. It also provides customizable templates for simplifying integration processes.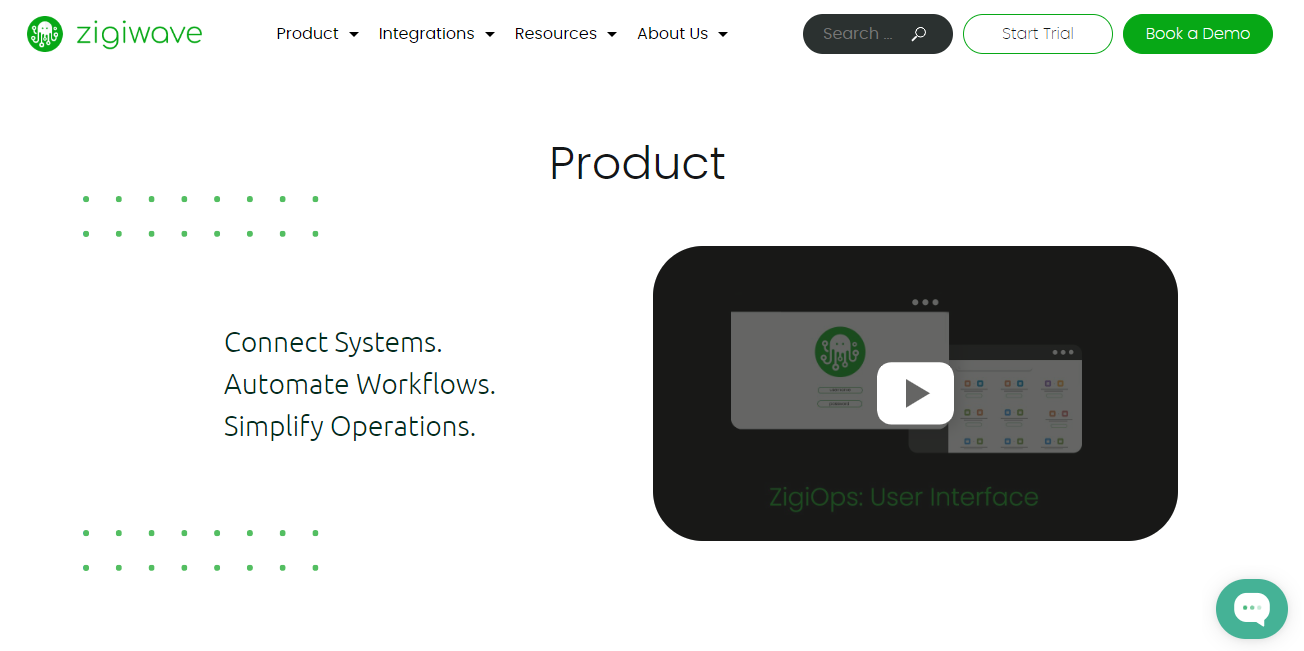 With ZigiOps, you get access to 300+ app integrations for DevOps, Cloud, and monitoring systems. Some notable ones include AppDynamics, Azure DevOps, Cherwell, and DataDog.
Regarding security, ZigiOps has every angle covered with protocols like 128-bit TLS 1.3 and TLS 1.2, as well as SFTP and FTPS. The IPaaS solution also has ISO 27001 and FIPS 140-2 certifications.
Pricing
ZigiOps is available at a fixed yearly price. You can get the ZigiOps Regular or ZigiOps Basic plans for your business. To find out more, book a pricing meeting with their sales team.
7 – Jitterbit
Jitterbit is a data integration platform that enables businesses to simplify workflow optimization with the help of a single automated integration tool. Since acquiring Zudy and PrimeApps, Jitterbit now supports low-code integration as well.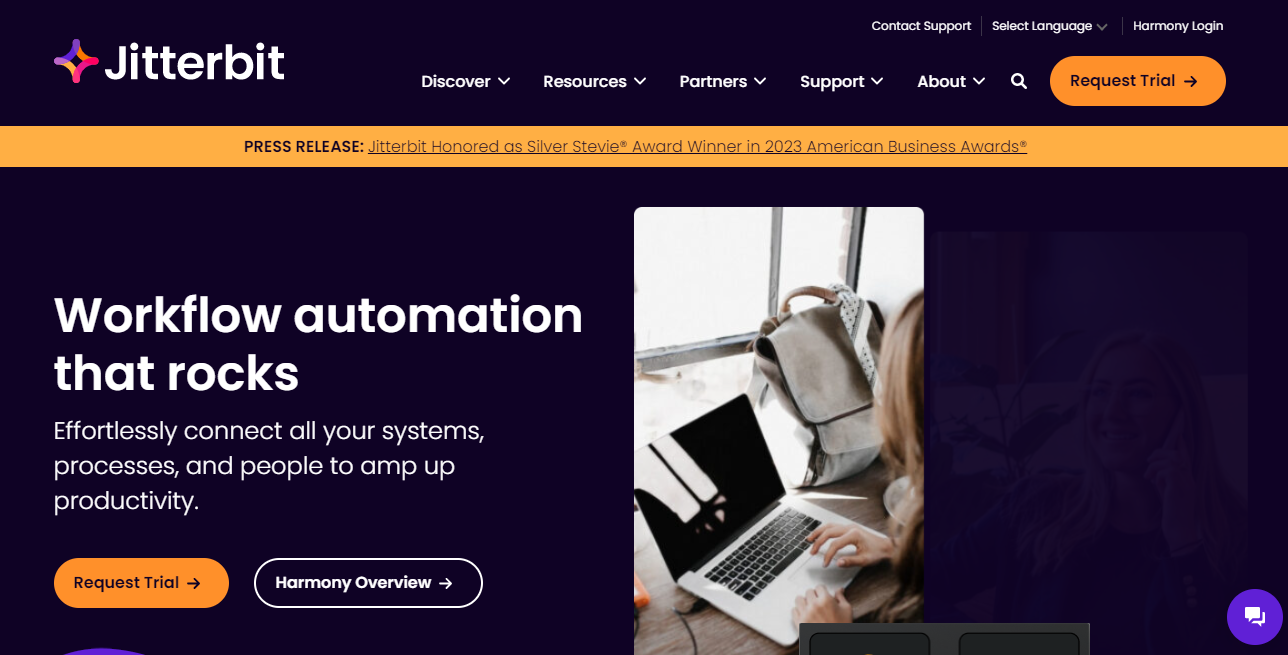 Jitterbit connects with Adobe, Acumatica, Zoho, Amazon AWS, Square, Workday, and other platforms and services. You can also customize your integrations with the help of plug-ins and client certificates.
In addition, Jitterbit is compliant with SOC1 Type I & II, SOC2 Type I & II, GDPR, HIPAA, and ISO 27001. Other security protocols and features include:
Distributed Denial of Service (DDoS) protection
SSL/TLS encryption (HTTPS)
Access controls
FIPS 140-2 encryption
Password encryption
Two-factor authentication
Pricing
You can get Jitterbit for a Standard (3 connections), Professional (3 connections), or Enterprise (8+ connections) subscription.
8 – Unito
Unito is a bi-directional integration tool that allows real-time data synchronization between apps, workflow management platforms, and cloud services. You can use Unito's pre-built field mapping rules to decide what to sync.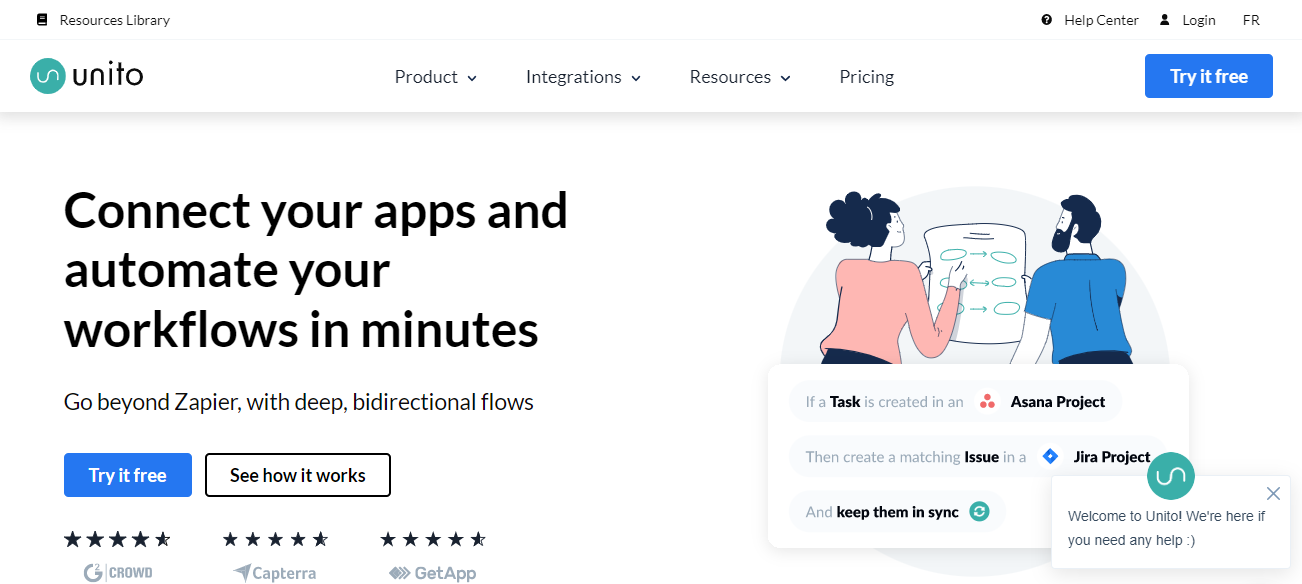 Unito is SOC 2 certified, and the infrastructure is hosted in AWS data centers in the US. It is also compliant with PCI DSS, OWASP, and CSA. Since Unito relies on AWS, it uses tools like Cloudwatch and GuardDuty to protect user data. Also, data at rest is secured, thanks to 256–bit AES encryption.
With Unito's no-code interface, you can sync user data, file data, contacts, workflow status, and work items. It gathers this data from popular apps and tools such as Jira, Azure DevOps, Zendesk, Excel, Monday.com, Airtable, and Notion.
Pricing
Unito offers users a 14-day free trial, after which you need to pick a plan with prices starting at $10 per month for 100 items in sync.
9 – Exalate
Exalate is an integration solution that allows users to bidirectionally sync work items, issues, cases, and other forms of data. Exalate covers the entire spectrum, from no-code to script-based integration.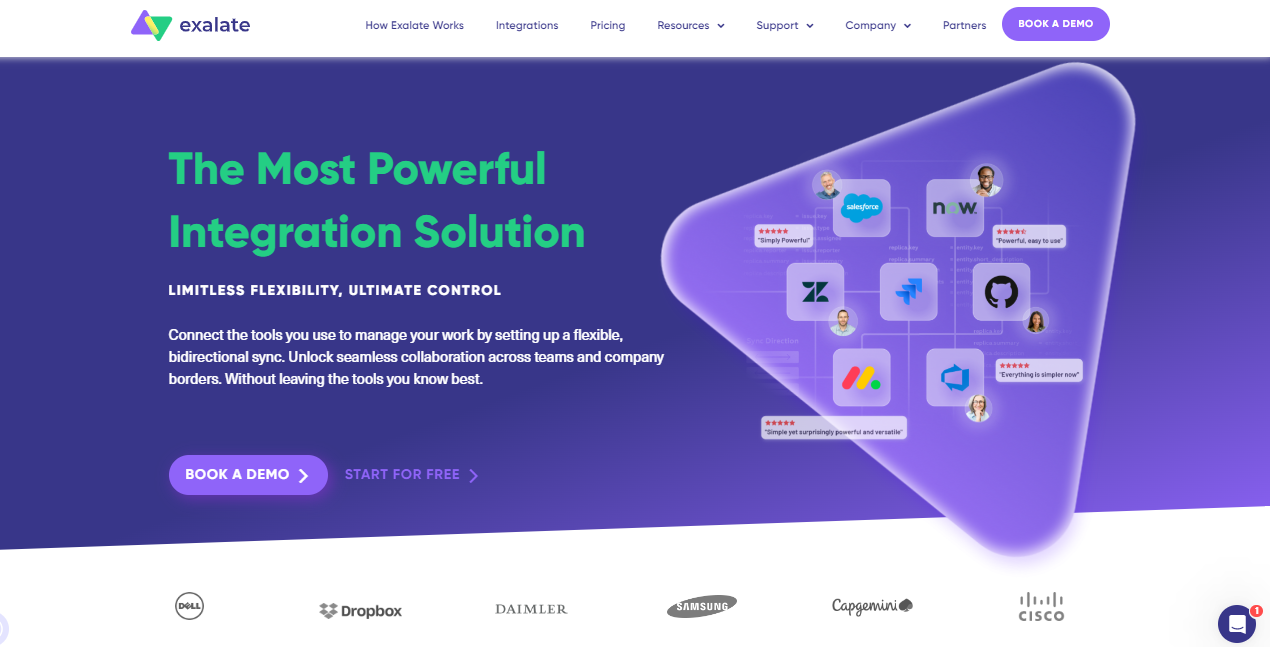 Here are different Exalate modes:
Basic Mode – the no-code version that allows users to sync data between two work management systems.
Visual Mode – the low-code version that allows users to map fields and establish basic sync rules without going too hard on the code.
Script Mode – the script-based version for advanced scripting.
Exalate connects with Jira (cloud and on-premise), GitHub, ServiceNow, Zendesk, Salesforce, HP ALM, and Azure DevOps.
Pricing
Exalate has a free plan that gives you up to 1000 new monthly issue pairs. The cost of the Premium plan varies, depending on the platform you are working with. You can get the entire pricing breakdown here.
10 – Skyvia
Skyvia is a cloud-based data integration platform that helps businesses to collect, manage, and back up data from multiple sources. Some supported data sources include Mailchimp, Spotify, G Suite, Oracle, MySQL, Dropbox, and Snowflake.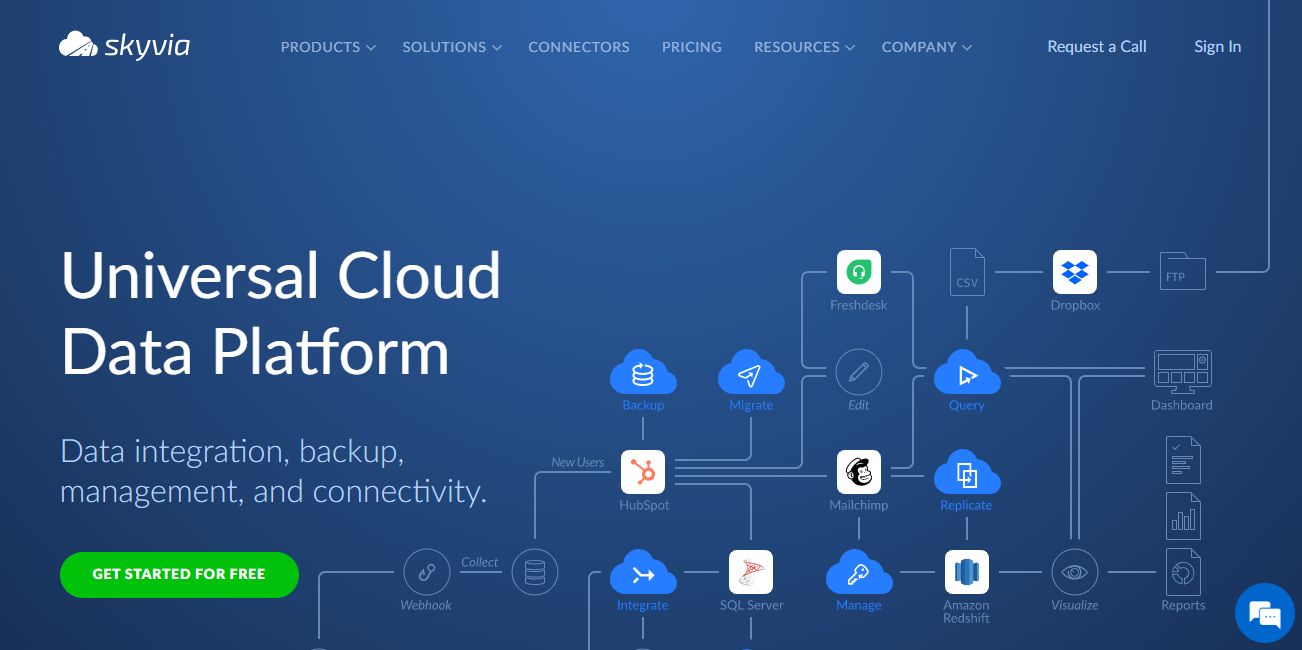 Businesses can use Skyvia to import, export, replicate and synchronize data internally and externally.
Pricing
Skyvia has a comprehensive pricing list depending on the service you want.
Backup Pricing:
Free
Standard – $9 per month ($7 billed yearly)
Professional – $99 per month ($79 billed yearly)
Enterprise – $499 per month ($399 billed yearly)
Data Integration Pricing:
Free
Basic – $19 per month ($15 billed yearly)
Standard – $99 per month ($79 billed yearly)
Professional – $499 per month ($399 billed yearly)
Query Pricing:
Free
Standard – $19 per month ($15 billed yearly)
Connect Pricing:
Free
Basic – $19 per month ($15 billed yearly)
Standard – $49 per month ($39 billed yearly)
Professional – $99 per month ($79 billed yearly)
Conclusion
No-code integration makes it easy to sync data from multiple sources without writing a single line of code. Thanks to automated, no-code integration tools, users can now improve their efficiency while gaining more control over the data they share or receive.
And with the infusion of AI in no-code IPaaS solutions like Power Automate and Zapier, integrations will continue to blend seamlessly with automation for better results and improved customer satisfaction.
Exalate is an integration solution that helps businesses integrate with multiple MSPs and MSSPs. This solution allows you to share data bi-directionally using custom scripts and event-specific triggers.
Recommended Reads: