Organizations use myriad tools to manage their operations efficiently. Among these essential tools, Jira and ServiceNow stand out as the pillars of productive development, IT service management, and beyond.
However, the true potential of these platforms can only be realized when they work together. A Jira ServiceNow integration can make work and tasks flow between these platforms without hiccups. The end result would be streamlined workflows and superior customer services.
Frequently, conceptualizing such an integration requires a deep understanding of how it could be represented in a tangible, real-world context.
We've put together a guide that would take you along for a practical ride with a lot of real-world applications of integrating Jira with ServiceNow. 
So let's hit the pedal!
Jump to:
The Need for a Jira ServiceNow Integration
Jira and ServiceNow are powerful tools for project tracking and IT service management.
But they can be even more powerful when integrated. Here are some of the challenges that can be solved with a Jira ServiceNow integration:
Siloed workflows
Duplicated efforts
Lack of real-time insights
Unreliable data
A Jira ServiceNow integration can help you overcome these challenges by automating data exchange between the two systems. This ensures that all stakeholders have the data they need when they need it, and that data is accurate and reliable.
Integrating Jira and ServiceNow can also help you improve your team's efficiency and productivity. By automating tasks and workflows, you can free up your team to focus on more strategic work.
If you're looking to improve your team's performance, a Jira ServiceNow integration is a great place to start.
We'll uncover real-world examples of integrating ServiceNow and Jira, where complex workflows can intertwine with everyday tasks, making work life a breeze.
Jira ServiceNow Integration Use Cases
In this section, we'll take a deep dive into a few examples of Jira ServiceNow integration based on how teams use these systems. Additionally, we'll cover how MSPs can connect with their customers through integrations.
The aim is to foresee how integrating Jira and ServiceNow can solve real-world challenges. If your organization shares similar needs, you'll soon learn why this integration is the missing piece to optimize your workflows.
For every use case, we'll give a short summary of the potential business impacts you can expect.
Incident Management
Picture this: A critical incident (urgency=1) occurs in your IT infrastructure. With integration, the incident is automatically created in both Jira and ServiceNow. You can also automatically trigger the incident based on the urgency and assignment group to a Jira issue. You can also pass on SLA information for additional context.
When the incident lands in Jira, it already has the "Highest" priority.
Your IT team swiftly handles the incident in ServiceNow, while your dev team simultaneously tracks the issue progress in Jira. Collaboration and efficiency at its best.
Organizational Benefits

Let's have a look at some specific occurrences in the IT and dev departments and how integration can save the day!
1. Network Outage Resolution
A telecommunications company experiences a network outage affecting thousands of customers. As soon as the monitoring system detects the issue, an incident is raised in ServiceNow. With a Jira ServiceNow integration, an issue is raised automatically in Jira with all the necessary comments, attachments, work notes, etc.
2. Website Downtime Mitigation
An e-commerce company's website experiences downtime during a major sales event. An IT team creates an Incident in ServiceNow, which is reflected as a Jira issue, where the dev team tracks it for resolution.
3. Managing the Security Breach Response
A cybersecurity breach is detected, and the incident response team in ServiceNow starts their investigation. With a Jira ServiceNow integration, an incident issue is created in Jira to engage the dev team in remediation efforts.
Change Management
Change is the only constant in IT. Integration ensures change requests are seamlessly transitioned into Jira for implementation.
Scenario: Your e-commerce platform needs upgrading. A change request is entered in ServiceNow to initiate the upgrade, which is then synchronized with Jira. The Jira issue can contain the reason for the change, the priority, the risk, the change type, the change category, and any other additional information as required.
Organizational Benefits

Problem Management
Problems can be complex and recurring. With a sync between Jira and ServiceNow, the dev team in Jira is immediately aware. They can work with the IT team together to find lasting solutions, preventing recurring issues.
Scenario: Your IT team notices recurring issues with your company's email server. A problem record is created in ServiceNow to investigate the root cause and the status is transitioned to "Assess". This creates a trigger for the dev team and a Bug/ Problem (issue type) is created for the same. Both teams exchange work notes, comments, attachments, and other important data to get to the bottom of the problem.
Organizational Benefits

Release Management
Coordinating software releases is important and often tricky. Integration helps you plan, track, and execute releases seamlessly. Everyone has full visibility, ensuring smooth deployments.
Scenario: Your software development team is preparing for a major release. ServiceNow initiates a release request, which triggers the creation of a release plan in Jira.
Organizational Benefits

We've seen the service side of things. Now, let's factor in another interesting use case at the enterprise level.
A Jira ServiceNow Integration Case for MSPs/ MSSPs
In today's dynamic business landscape, Managed Service Providers (MSPs) play a crucial role in delivering continuous and improved IT services to their customers. Often, these MSPs rely on popular applications like Jira and ServiceNow to manage their internal workflows efficiently.
However, when it comes to serving their customers, who might be using a completely different system, the need for integration becomes apparent. In this context, let's explore the significance of integrating Jira and ServiceNow for MSPs and their clients.
The MSP Challenge
MSPs have a dual responsibility: managing their own operations and ensuring the smooth functioning of their customers' IT environments. This means dealing with multiple instances of Jira or ServiceNow, leading to potential silos, communication gaps, and inefficient processes.
Organizational Benefits
With an integrated Jira ServiceNow environment, they can experience a few key benefits: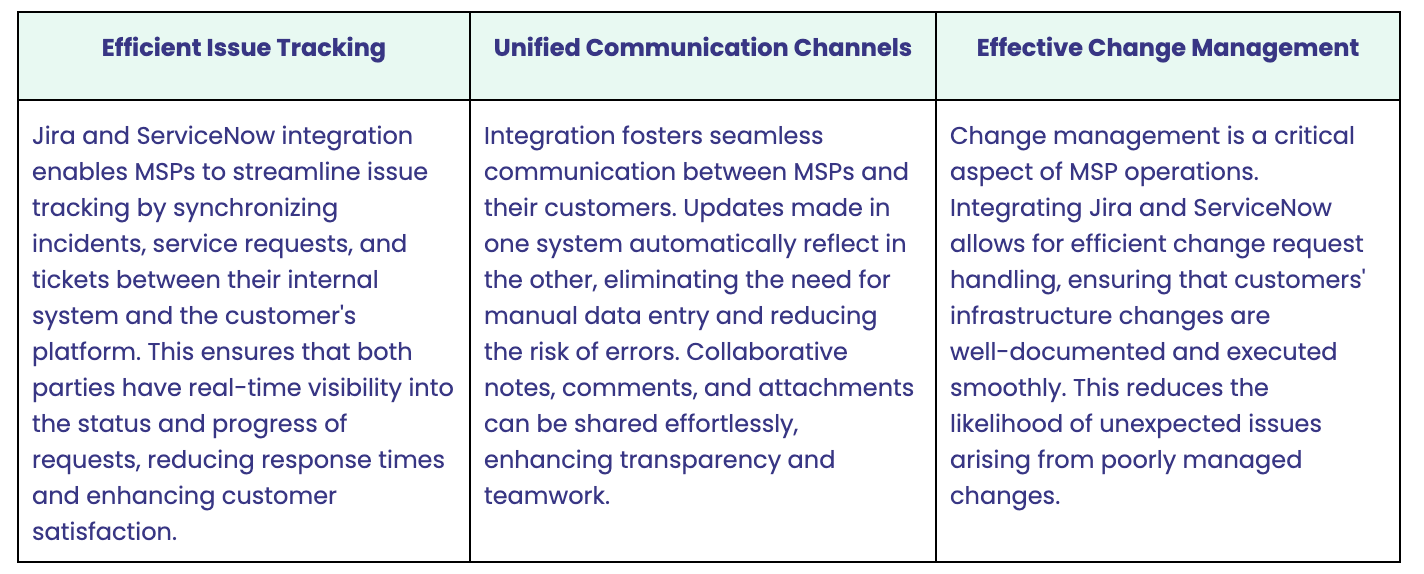 Having grasped the possibilities of integrating Jira and ServiceNow, let's explore its practical implementation.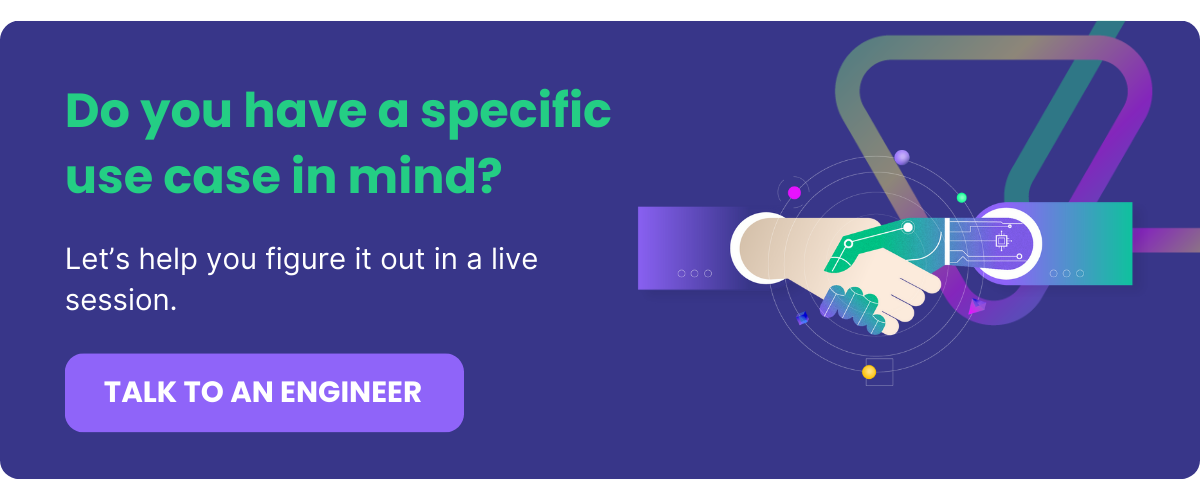 Technical Implementation of a Jira ServiceNow Integration
It's important that you view Jira ServiceNow integration as akin to any other business project, necessitating meticulous planning and flawless execution.
Some key factors to keep in mind during the integration implementation:
Data Mapping and Transformation
With a substantial amount of data residing in your applications, it's essential to have a well-structured strategy for accurately mapping fields between Jira and ServiceNow. Specify precisely which Jira fields should align with ServiceNow fields and vice versa.
Account for the differences between the data structure and formats between the two platforms. Create data transformation rules or routines to convert data from one format to another when necessary.
Integration Methodology
There are various methods of implementing a Jira ServiceNow integration.
API-Based Integration
One of the most common methods for Jira-ServiceNow integration is leveraging their respective APIs. Both Jira and ServiceNow provide robust APIs that allow you to programmatically interact with the platforms. This approach enables real-time data synchronization and automation of various processes.
Middleware Solutions
Alternatively, you can explore middleware solutions like Exalate or IntegrationHub, which offer user-friendly interfaces for creating integrations without extensive coding. These platforms can simplify the integration process for non-technical users.
Before choosing a solution, it is imperative to understand their benefits.
Exalate is a highly customizable, robust, secure, and scalable integration solution that offers integrations between multiple platforms like Jira, ServiceNow, GitHub, Salesforce, Zendesk, Azure DevOps, etc. It supports decentralized integration where each integrating side has full and independent control over data exchange. This distributed architecture makes it a perfect candidate for cross-company integrations.
Its unique offering is a low-code script mode that enables users to implement deep integrations between Jira and ServiceNow or between other platforms it supports.
It also has some custom integration offerings to target a wide variety of businesses and users, like Exalate for peer-to-peer integrations or the Exalate for MSPs program. Getting started is easy—just set up a call with our integration experts and talk about what you need.
As opposed to IntegrationHub's Jira Spoke which allows connecting ServiceNow with Jira, Exalate is a cheaper and more versatile option. You can find an in-depth comparison of both these solutions here.
Get the Maximum Out of Your Jira ServiceNow Integration
Implementing the integration is the next step. Try the solutions for free, get a POC, do a cost-saving analysis, and be sure of the technology you choose. It can be a deciding factor for a make-or-break integration.
Additionally, a Jira ServiceNow integration project does require considerations for security features like OAuth tokens, encryption mechanisms, access control, etc.
Error handling and monitoring are equally important where you can test your integration in the staging environment safely without worrying about how it'll affect your production data.
Using monitoring tools to keep an eye on the health and performance of your integration is also necessary.
Let's have a look at how you can implement a Jira ServiceNow integration using Exalate.
Implement a Jira ServiceNow Integration in 6 Easy Steps
Since Exalate has a distributed architecture, you need to install it on Jira and ServiceNow.
The starting point can be either of the two systems. For this guide, we'll commence with the Jira setup.
Step 1: Install Exalate on Jira
Exalate for Jira can be installed on Jira Cloud, on-premise installations, or Docker containers.
In this section, we'll focus on installing Exalate for Jira on Jira Cloud.
To initiate the installation process, visit the Atlassian Marketplace and search for Exalate.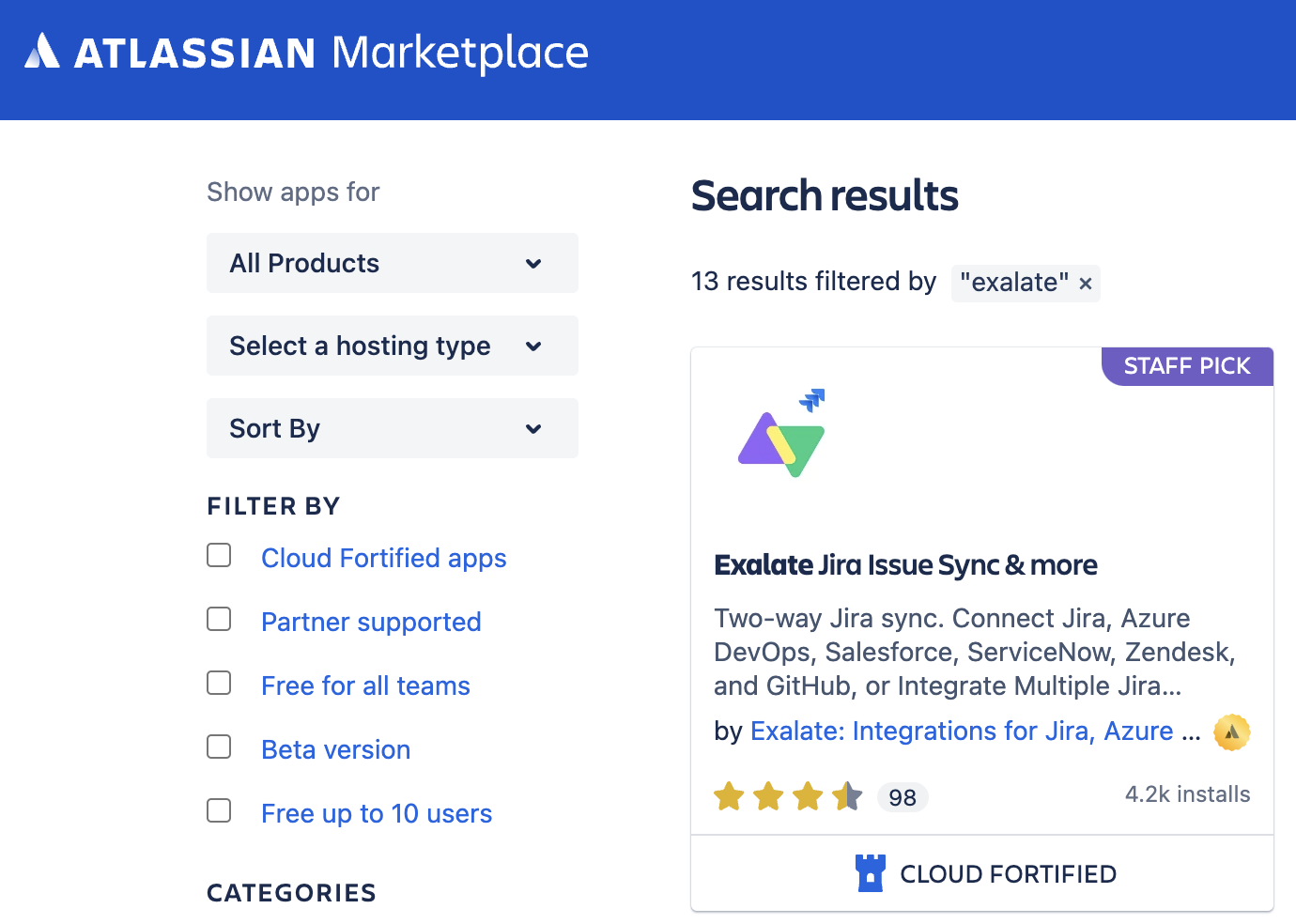 You can even navigate to the Jira admin app manager.
1. In the top navigation menu, click on "Apps" > "Find new apps."
2. In the search field, type "Exalate" and select "Exalate Jira Issue Sync & more".

3. Click the "Try it Free" button and then "Start free trial."

Allow a few minutes for the app to install in the background. Once it's done, proceed to install Exalate on ServiceNow.
Step 2: Install Exalate on ServiceNow
To install Exalate on ServiceNow, visit the integrations page and select "ServiceNow" from the list.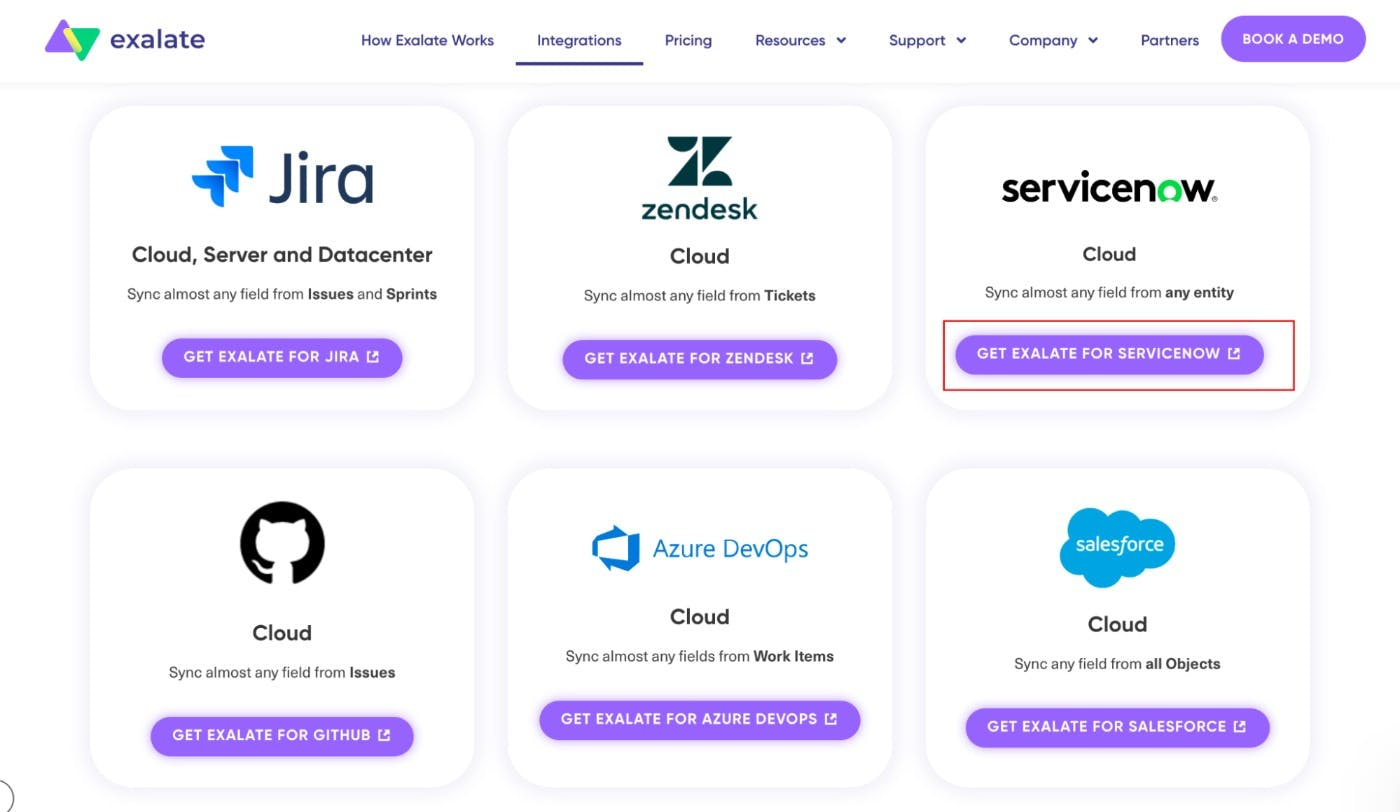 1. Fill in the provided form with basic information and click "Submit."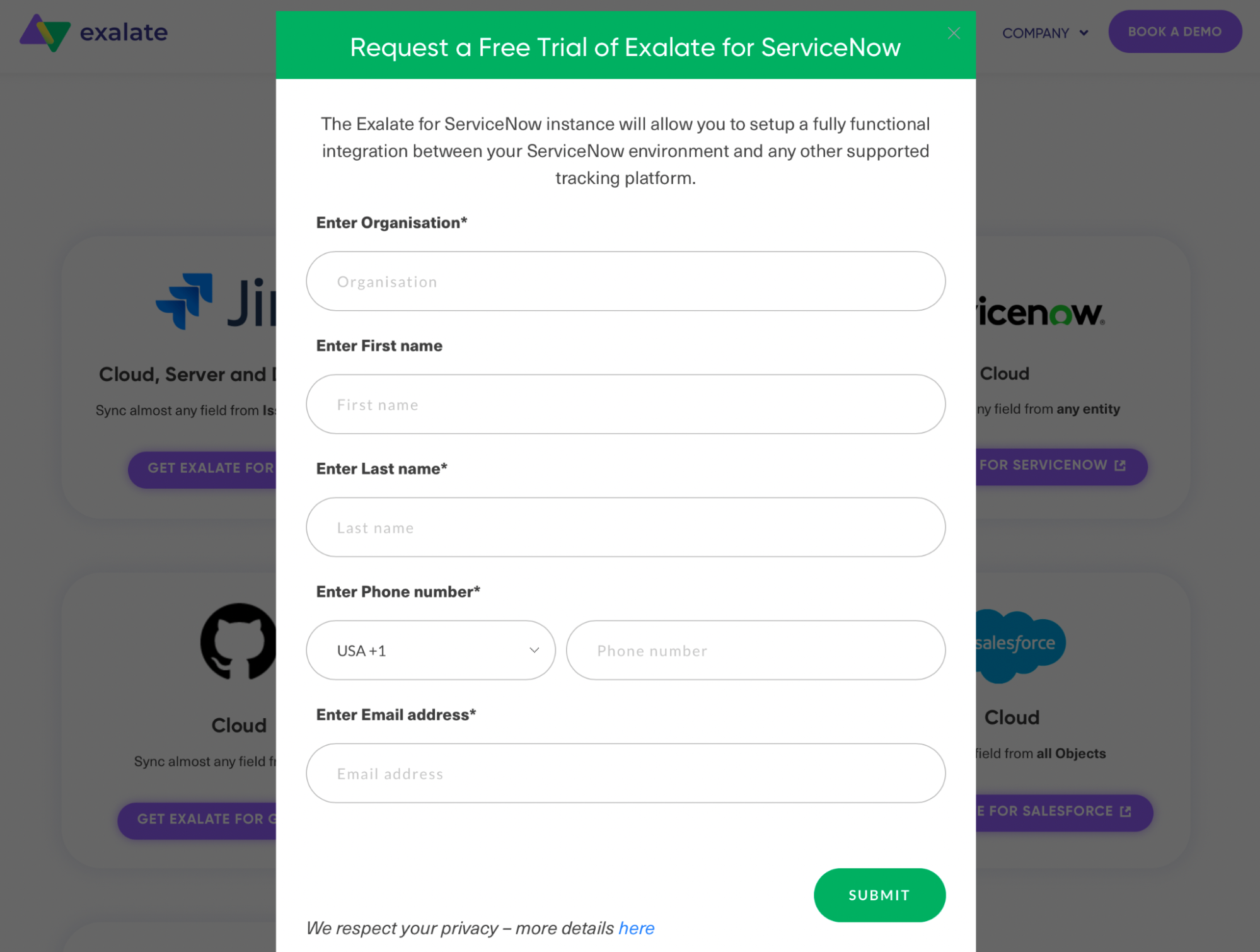 2. Shortly, you'll receive your Exalate for ServiceNow node URL in your inbox, based on the provided email address.

You also have the option to install Exalate for ServiceNow as a bridge app using an update set. Detailed instructions to install Exalate can be found here, and Docker installation details are available here.
Step 3: Connect Jira and ServiceNow
After completing installations on both instances, you need to establish a connection between Jira and ServiceNow to enable data exchange.
You can start setting up the connection from either end, as the Exalate user interface remains consistent. In this example, we'll commence from the ServiceNow side.
1. Navigate to the "Connections" tab in the Exalate admin console and click "Initiate connection." You'll find a list of your existing connections here. If this is your first connection, the screen will be empty.

2. Enter the URL of the destination instance (Jira in our case).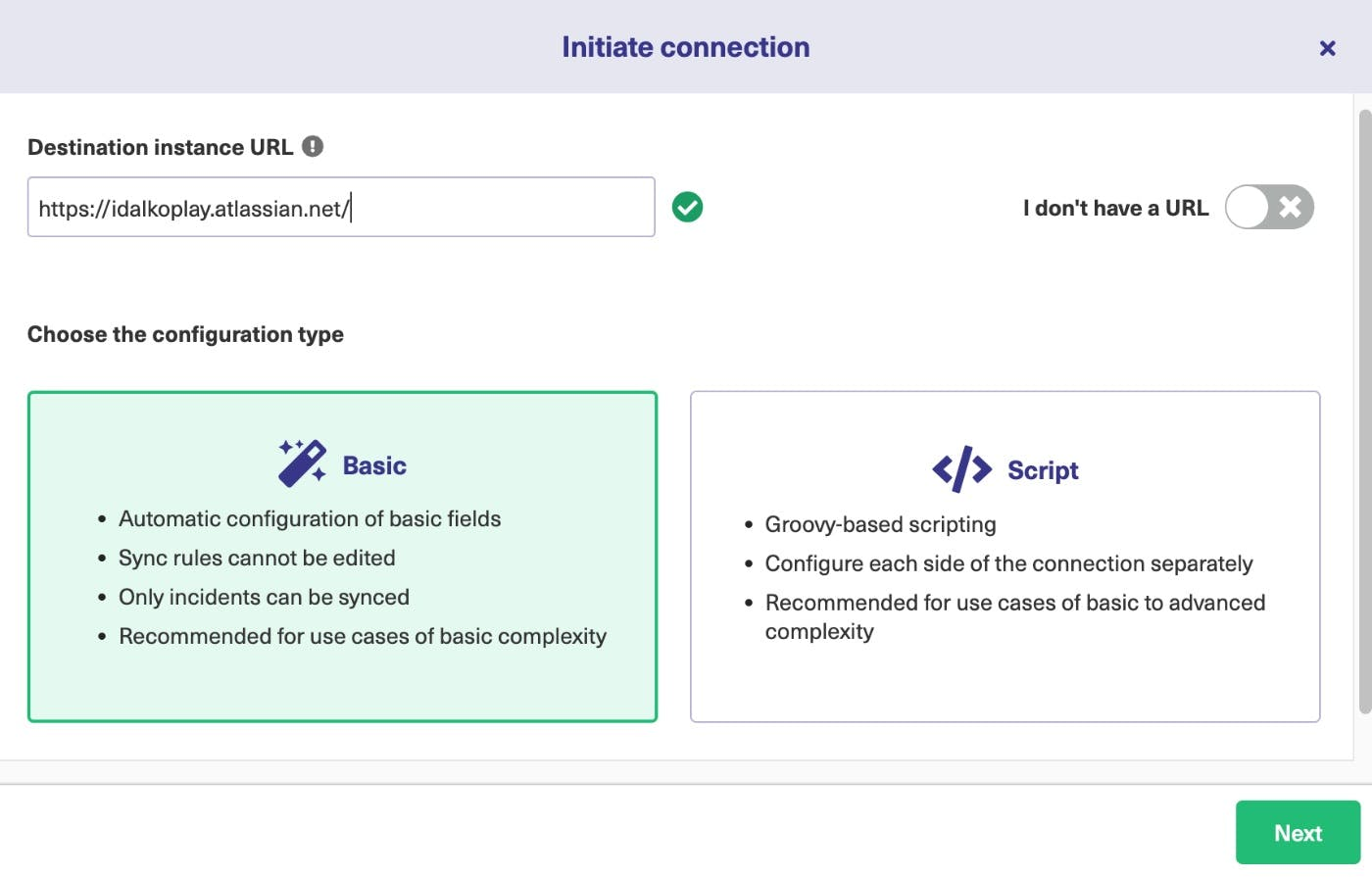 3. Select the mode of connection (Basic or Script mode) for ServiceNow-Jira integration.
– Basic Mode: Predefined sync rules for simple use cases. The sync rules cannot be configured. It comes with 1,000 free syncs per month.
– Script Mode: Offers extensive flexibility through low-code Groovy scripts on both sides. These decentralized scripts can be configured to sync a variety of entities in Jira and ServiceNow.
We'll discuss the Script Mode in this section.
4. Enter the connection details. Give a name to the local and remote instances, edit the auto-generated connection name if required, and add some description. Proceed to "Initiate" the connection.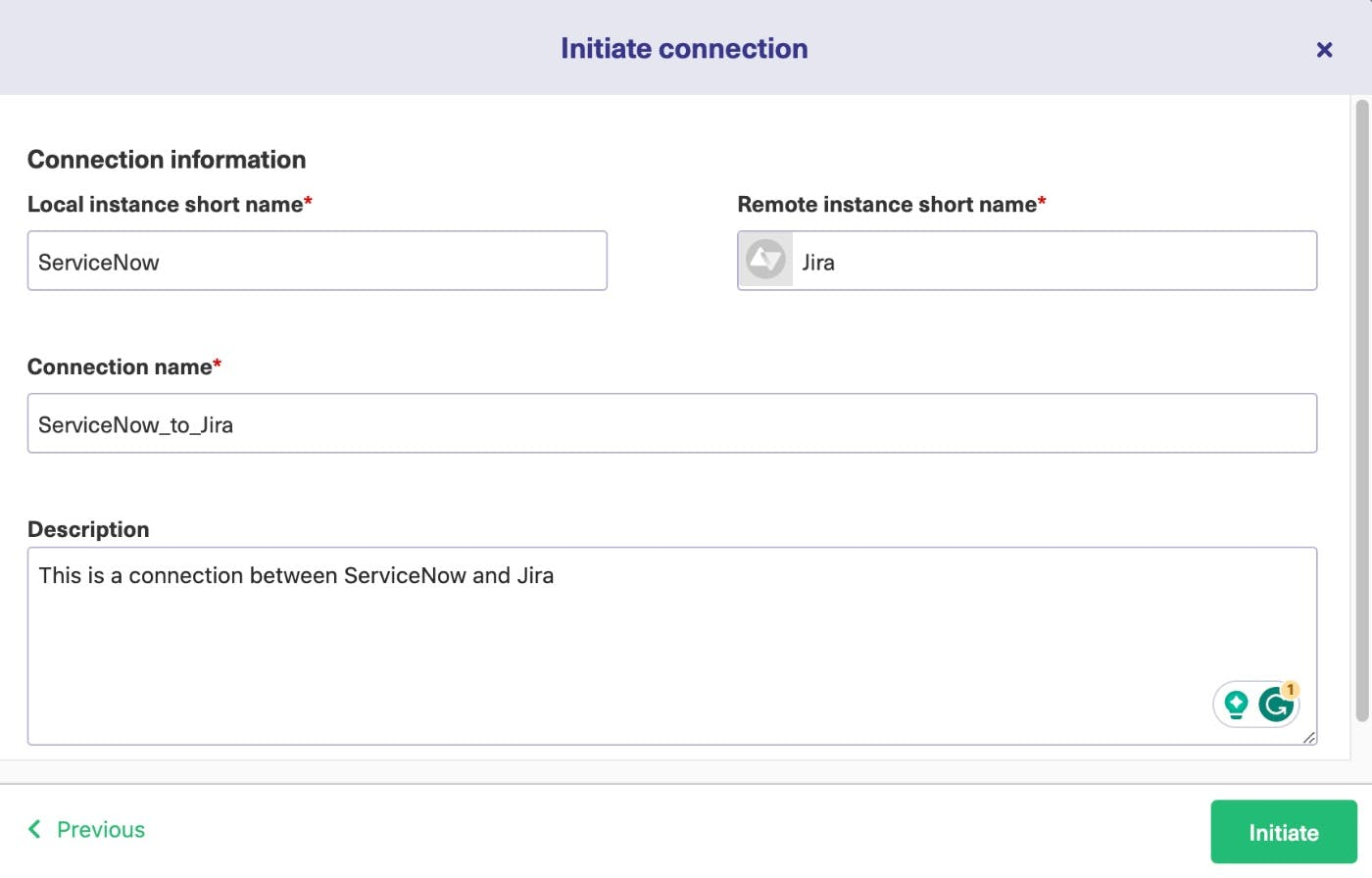 5. An invitation code is generated that acts like a secret key to authenticate the destination. Copy the invitation code and click "Done".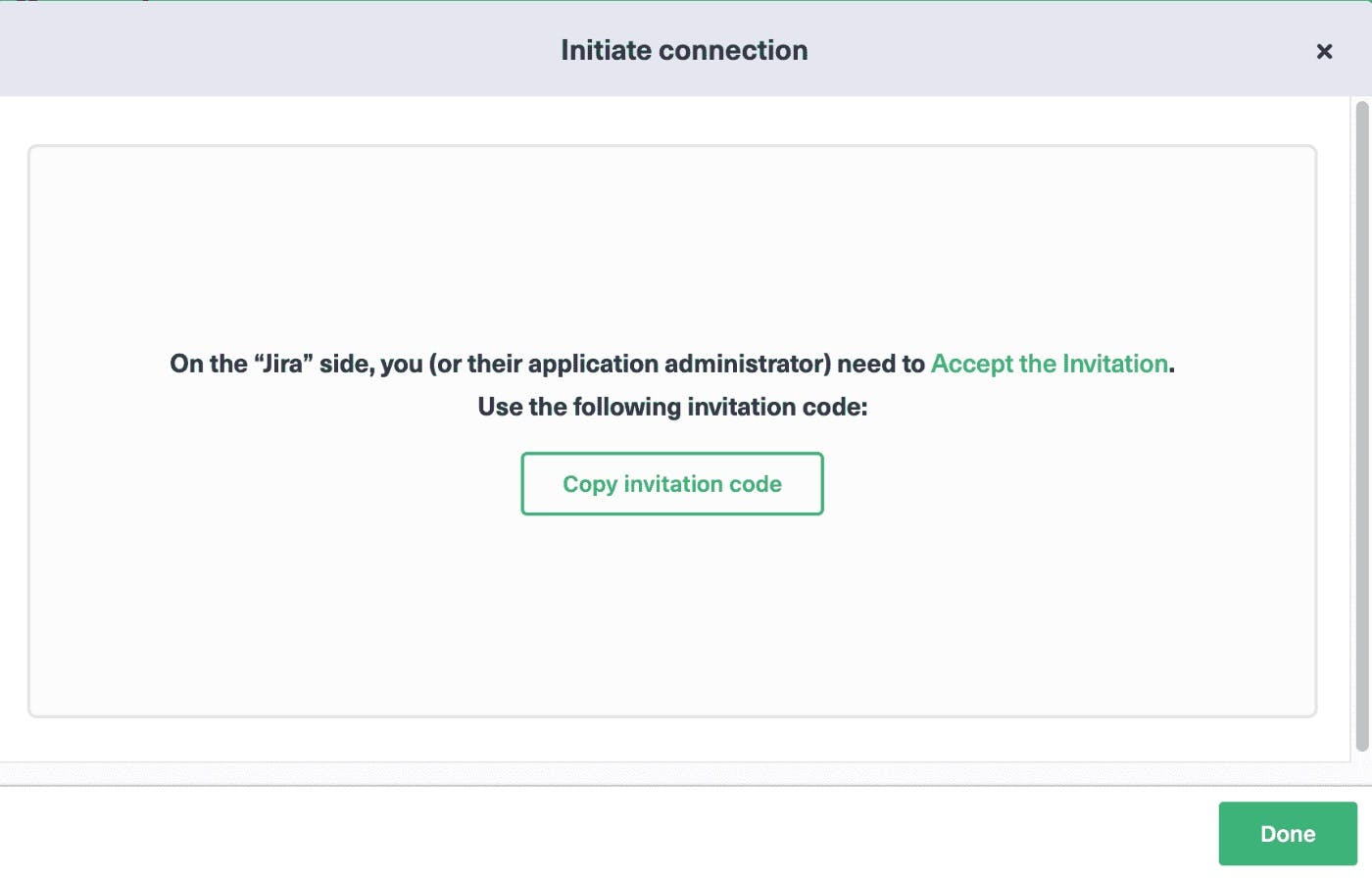 6. Next, proceed to your Jira instance. Under the "Connections" tab, click "Accept invitation" this time.
Paste the code you have just copied.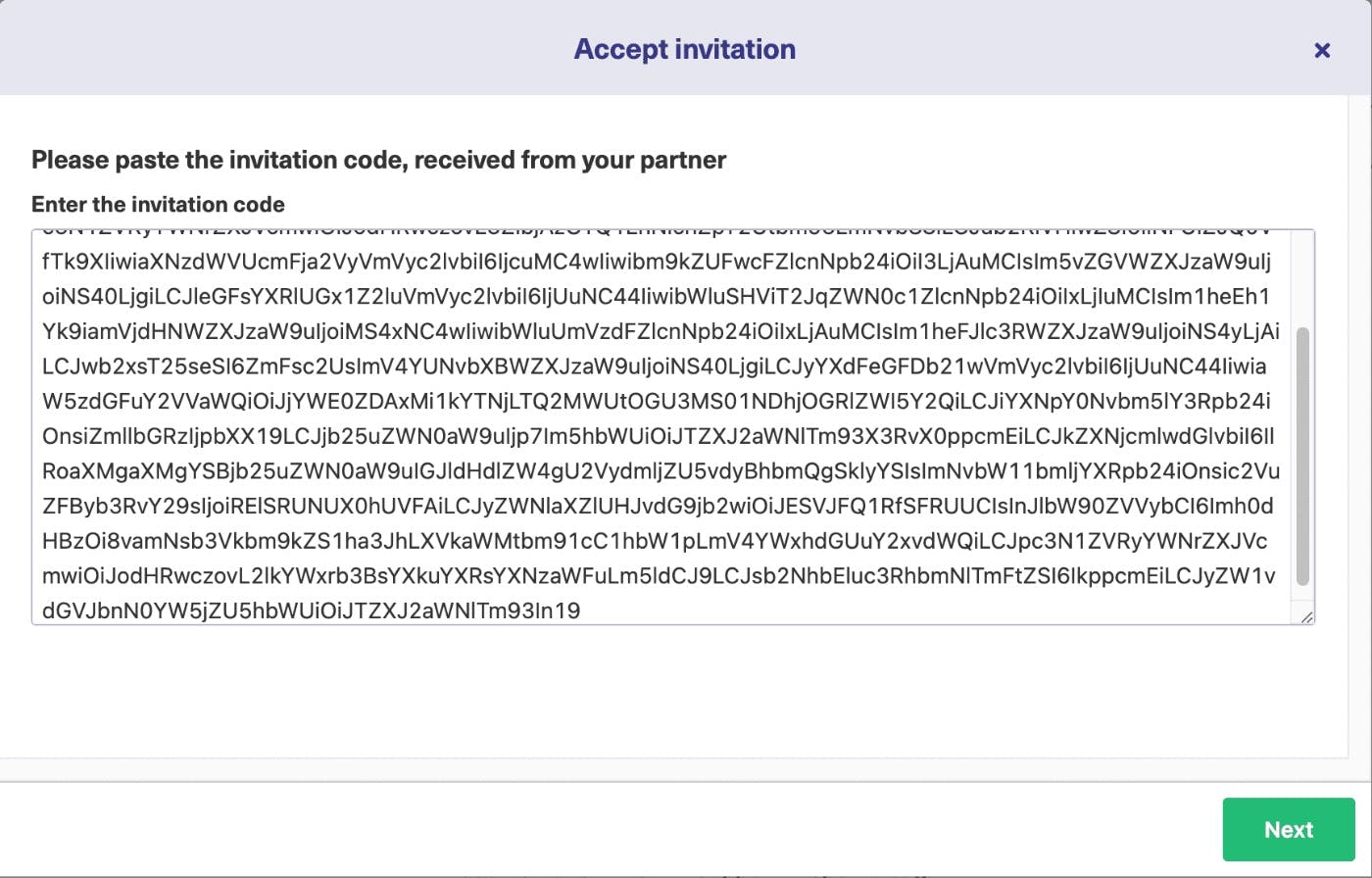 7. Select the Jira project under which you want to sync the ServiceNow entities.
8. Once completed, your successful connection will look like this, and you can proceed to "Configure Sync."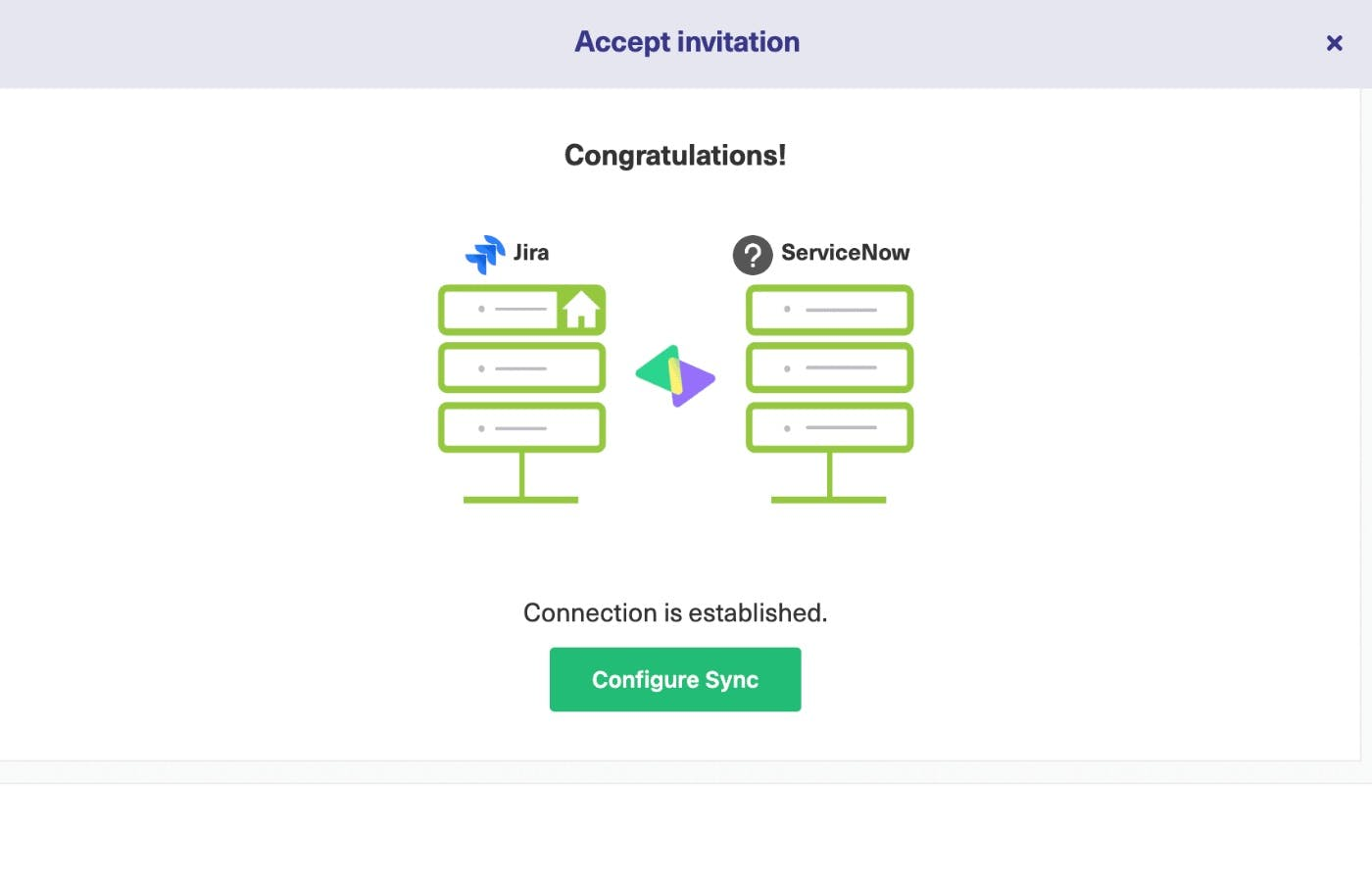 Step 4: Define Synchronization Rules
Sync rules govern the flow of information between Jira and ServiceNow and dictate its mapping. Access the "Configure Sync" button, which leads to a screen with four tabs: Rules, Triggers, Statistics, and Info.
In this section, we'll delve into the "Rules" tab, while the "Triggers" tab will be covered in the next section.
The "Rules" tab comprises "Incoming sync" and "Outgoing sync" sections, determining what information goes in each direction and how it's mapped.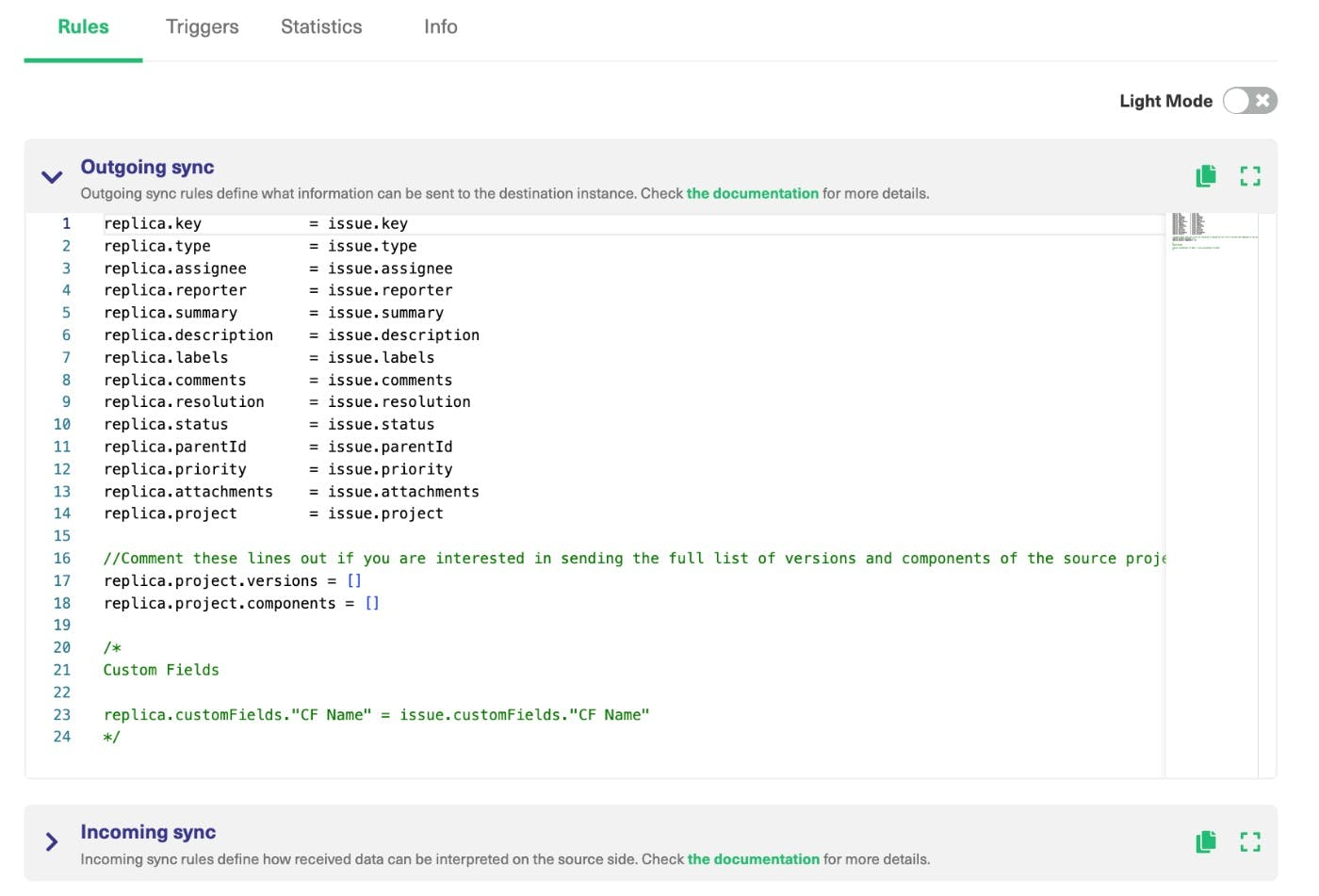 Configuring sync rules is straightforward, allowing you to comment, delete, or uncomment lines for specific syncs. Additional features, such as toggling between light and dark mode, script expansion/collapse, and script copying, enhance your customization options.
Features like auto-complete, syntax highlight, code formatting, error highlight, and debugging integrated with the Monaco editor assist in your scripting journey with Exalate.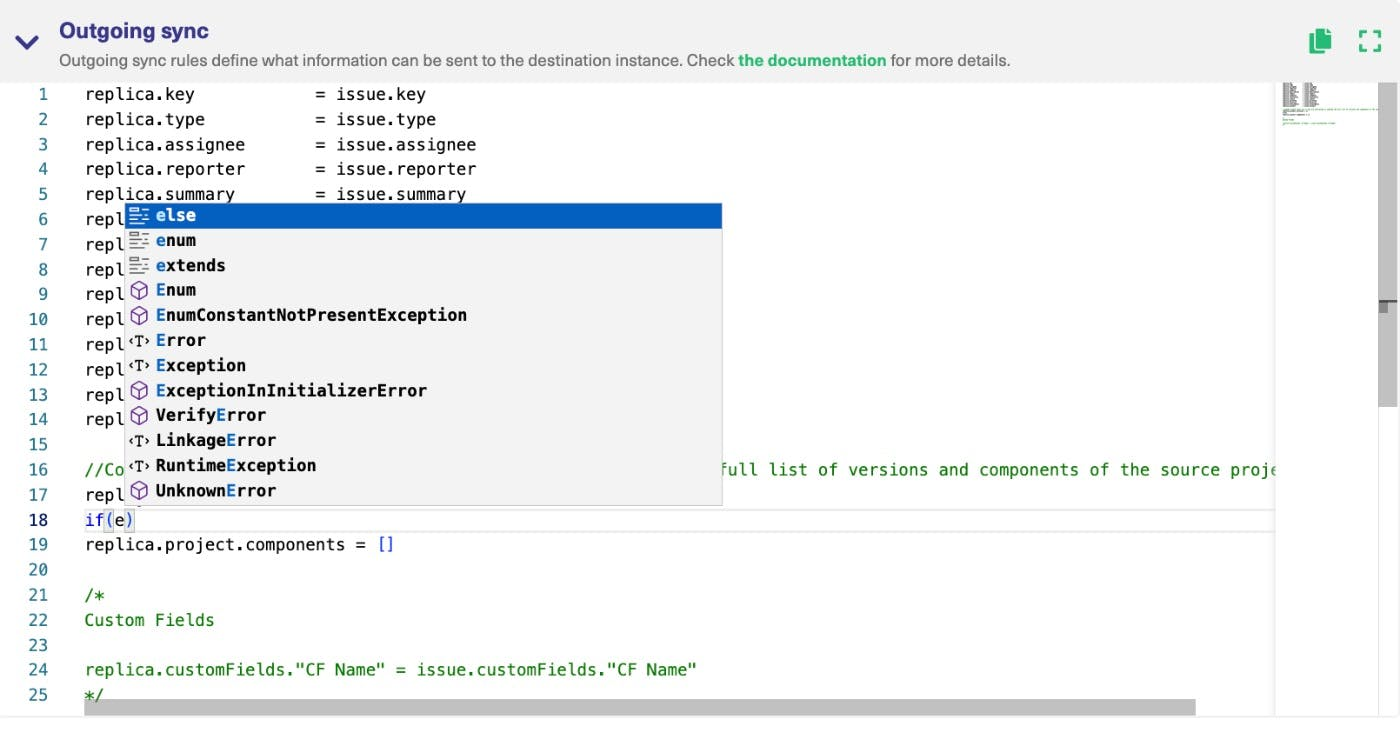 After configuring the sync rules, you can perform a manual sync to ensure the connection functions correctly before proceeding.
Step 5: Set Up Automatic Sync Triggers
Triggers enable the automatic exchange of information between Jira and ServiceNow based on specific conditions.
Access the "Triggers" tab in the configuration screen and click "Add Trigger."
The "Add Trigger" screen allows you to define triggers for issues and other ServiceNow entities, utilizing the platform's native query language (e.g., JQL for Jira and ServiceNow's advanced search syntax).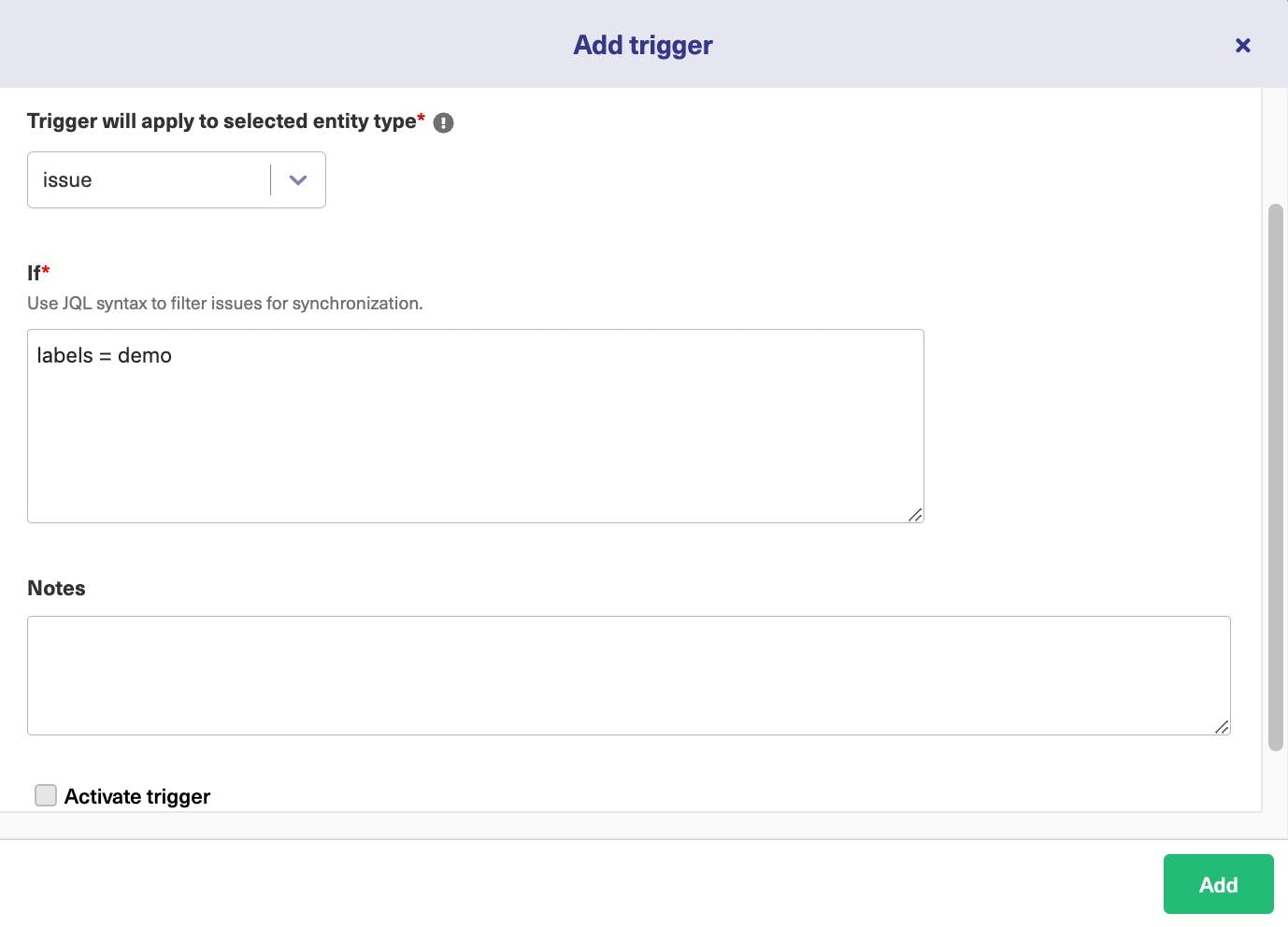 Write trigger queries independently at both ends to match your requirements and activate the triggers. You can edit them later if necessary.
Remember to "Publish" any changes made to the connection in steps 4 and 5.
Step 6: Sync, Modify, Improve, Repeat!
The process doesn't end here. Following steps 1 to 5 ensures that your synchronization is operational. However, as requirements evolve, it's essential to customize your connection and fine-tune triggers. Continuously test and validate the connection to prevent issues in production, and repeat these steps as needed.
Given our expertise in deep integrations, we'd like to share some advanced Jira ServiceNow integration use cases implemented using Exalate.
Advanced Jira ServiceNow Use Cases Implemented Using Exalate
Here are some advanced scenarios we put into action:
Conclusion
A Jira ServiceNow integration goes beyond using connecting software — it empowers businesses to excel operationally, optimize resources, and provide better services. We've explored its uses in incident, change, problem management, and service requests, as well as its benefits for MSPs.
The technical implementation involves choosing the right integration solution and ensuring security and reliability. With the right Jira ServiceNow integration solution, organizations can pave the way for a more agile, efficient, and customer-centric future.
Frequently Asked Questions
How do I link Jira and ServiceNow?
There are a few ways to link Jira and ServiceNow. You can use a third-party tool like Exalate, or you can use the native integration between the two platforms using REST APIs. With Exalate, you can create your own sync rules to map fields between the two platforms and set automatic sync triggers.
What are the benefits of integrating Jira with ServiceNow?
Integrating Jira with ServiceNow streamlines issue resolution, enhances collaboration between development and IT teams, reduces duplicate work, improves data visibility, and enables better reporting. This integration optimizes resource allocation, automates workflows, ensures compliance, and ultimately reduces operational costs for organizations.
What are the common use cases for a Jira ServiceNow integration?
Common use cases for a Jira-ServiceNow integration include aligning ITSM and development processes, streamlining incident management, automating change requests, enhancing cross-team collaboration, and improving reporting and analytics. This integration helps organizations efficiently manage IT operations, resolve issues, ensure compliance, and make data-driven decisions by synchronizing data and workflows between the two platforms.
What are some advanced use cases for a Jira ServiceNow integration?
Advanced use cases for a Jira-ServiceNow integration include bi-directional data synchronization for complex workflows, custom workflow automation with conditional triggers, and real-time incident resolution tracking. You can always discuss your use case with our integration experts.
Recommended Reading: