Cross-Company
Issue,Ticket,Incident,Bug
Tracking
Exalate is the most complete & flexible synchronization solution for issue trackers, service desks and task management systems.
Experience a seamless collaboration between teams across Jira instances, ServiceNow, Zendesk, Github & other trackers.
Sync almost any data between your tracking systems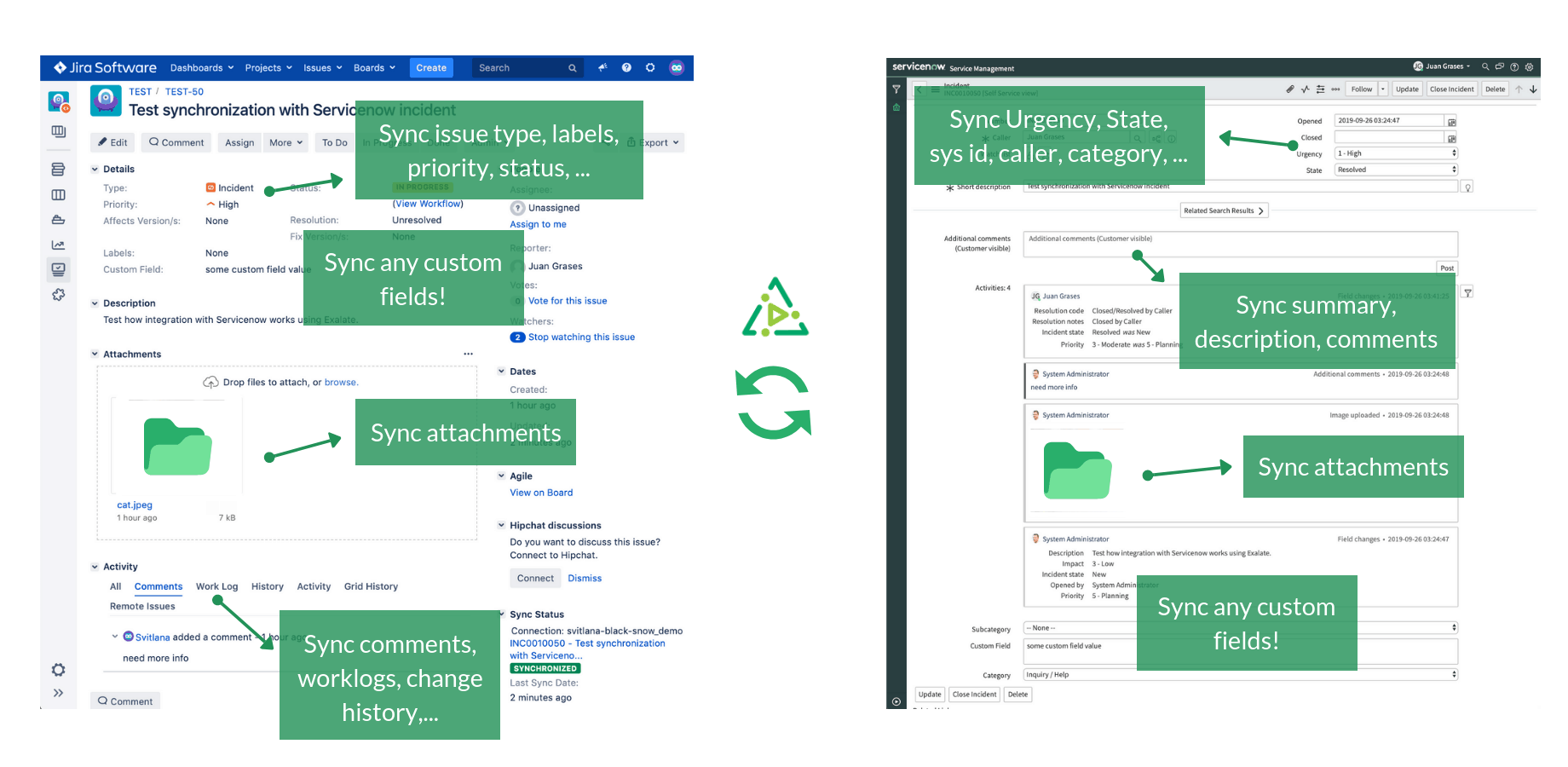 Stop losing time copying data, just Sync it
Did you know project managers report losing up to 20% of their time copying data?
And manual data entry doesn't just make you lose time. Key data also gets lost in translation.
Eliminate time-consuming tasks, like manually copying data from one issue tracker to the other. Spend your time resolving important issues and collaborating on critical tasks.
Unlock an intuitive collaboration by way of synchronization
Don't want to spend your working hours in unfamiliar tracking systems or get confused using other teams' workflows?
Choose to synchronize your data instead. And unlock an intuitive collaboration between teams. All the while you continue working from your trusted environment.
Why businesses choose Exalate?
The most flexible synchronization tool on the planet...
For any kind of collaboration, uni- or bi-directional, across all departments and external teams.
Exalate can connect everything to everyone, any way you choose and whatever tracker you use.
Trusted solution with proven security
Trusted by some of the biggest companies in the world, Exalate is fully built for any enterprise environment.
Gain fine-grained control on what information is exchanged, when, to whom and how.
Keep your data private, safe and secure following the best-in-class security practices.
What customers say about Exalate
Integrate everything
A wide range of supported connectors
The Exalate vision is to build a network of connected companies and teams experiencing seamless collaboration, whatever tracking technology is used.
Discover a wide range of connectors you can synchronize.
Pricing and Licensing to match your business needs
Exalate was built with flexibility in mind, this also translates to customized pricing and licensing.
We offer value-based pricing. Compatible with both small to medium sized Company needs as well as large Enterprise requirements.
We offer multiple licensing models tailored to your specific use case.
The company behind Exalate is iDalko, a Platinum Atlassian partner. iDalko is known for its support to be nothing short but legendary.
Our support team of true heroes will assist you every step of the way. We know this is important to you. So reach out to us any way you prefer: live chat, email or service desk. We're here to help.
READY TO TRY OUT EXALATE?