With 22 years of engineering experience, 200 staff, and a fast-growing pace of around 30% for the last 10 years, blueAPACHE is one of the most significant IT managed services companies in the Australian market today. They support a wide variety of mid-market customers throughout Australia and have thousands of users and servers across 4 continents.
They provide support for a broad range of IT services, professional services, data center, and are a full managed services company. blueAPACHE is also based on the idea that everyone should have secure and efficient access to their systems wherever they are, whenever they want. They aim to enable clients to achieve success, be agile and dynamic, and to support their clients' communities.
As stated in their portfolio, "By delivering IT as a Service, blueAPACHE has revolutionized the way organizations access technology and communications with affordable solutions that provide true scalability, elasticity, and agility."
Why Exalate?
• Guaranteeing data security and system autonomy
• Keeping the customer's data safe in house
• Up to 10 times more cost-saving
• Efficient ticket handling with about 3000 tickets per month and rising
• Optimizing Jira according to security measures and specific requirements
Optimizing the System for a More Secure Collaboration
blueAPACHE used to manage workflows and tickets by its own in-built custom system before choosing to adopt Jira among some other commercially available systems like ServiceNow.
Their security team had set some requirements to meet around the way they protected the data:
The database should be well protected but without limiting the teams' flexibility.
The portal (Jira Service Desk) and the backend (the Server) should be separated as the backend holds all the customers' critical information.
The external systems should not be allowed to access the internal ones without them knowing and without jeopardizing autonomy.
As their backend has all their customers' data, Anthony Mariniello the Solution Architect – Atlassian Stack at blueAPACHE, explains that they'd easily be a target for hackers and bad actors on the internet.
Moreover, they have access not only to their own network but also to a whole bunch of other networks, especially to their customers'. So the matter of data security was of the highest priority when considering an integration solution.
"That's why we went for Exalate to protect our data. We used it to effectively create a frontend portal server for all our customers and communications which has a limited subset of information on it. We can now initiate a sync ourselves as we don't want to allow the external systems to directly access our internal systems. So we can poll internally for changes and Exalate will update the database accordingly"

says Anthony.
On top of that, blueAPACHE also found it easily possible to get third party customer systems to build their own Jira Service Desk with their specific requirements and sync data between the two Jira instances accordingly.
Guaranteed Security and Cost Optimization with Exalate
blueAPACHE acquired Jira and Exalate at the same time. And they also used Exalate to address the architecture problems within Jira, which did not segregate the Jira Service Desk portal from the backend.
With Exalate, they could do that by having a separate Server, which would effectively serve the customer facing Jira Service Desk Portal, and a secure backend that was their JSD DB & Application Server. This way, they managed to improve the Atlassian architecture to meet their high security needs.
This was critically important because as a managed services provider, they needed to provide seamless support for their clients and intended to keep their collaboration as flexible and autonomous as possible. This was successfully achieved using Exalate.
So they put all their customers on Jira Cloud while having their own on-premise Jira, both internal and external servers, to keep the critical information intact.
"We had to adopt Exalate because of the security risks that we had. All our data was logged on one server and Exalate helped split that up. So the frontend portal just has the ticket information and email addresses and that's it! On the other hand, the internal side has all the critical/ privileged knowledge we need to secure internal IP addresses. If our external server gets hacked, it only contains low-value ticket data."

Anthony explains.
Exalate's flexibility stands out as one of its most prominent features for blueAPACHE. They can simply choose how to sync specific data. Now they handle about 3000 tickets per month (and rising) and Exalate has been handling the sync process efficiently.
Anthony also tells us that before choosing Exalate, they'd been considering products like ServiceNow but that was quite costly and would have cost up to 1 million dollars to get up and running.
"With the Jira- Exalate solution scenario, we managed to reduce our costs to about 10 times less!"
And what would you list as Exalate's most outstanding feature, we asked Anthony: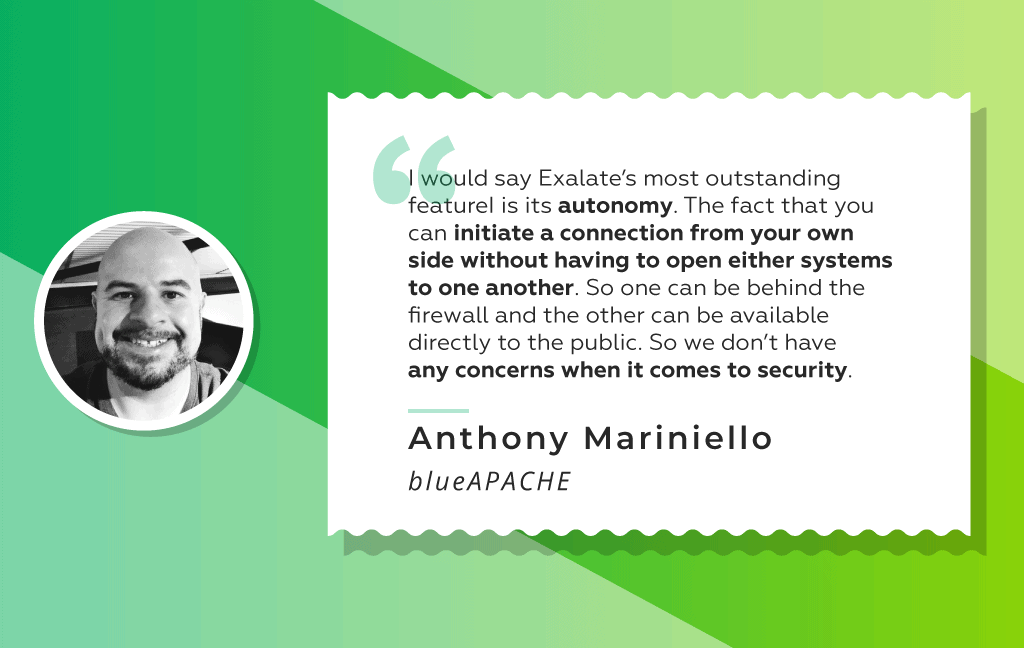 You can see how it all works in a nutshell:
Going Cross-Company
blueAPACHE also implements Exalate where closer collaboration with their customer IT departments is required. Anthony explains
"Some of our customers need their own helpdesk system to support their line of business applications. We needed a solution to enable the synchronization of all tickets between instances and the logical passing of assignee responsibility for tickets. We synchronize tickets between Atlassian Cloud instances of Jira Service Desk and the blueAPACHE Jira backend. This enables a much closer working relationship as tickets can be passed between instances, using approved workflow and the power of Exalate. This means the ticket is always assigned to the best person to solve our customers' issue."
blueAPACHE has implemented this solution for several customers to date and most recently for one of the largest pharmaceutical companies in Australia. blueAPACHE integrate into their system without threatening their autonomy or security thanks to Exalate.
They're now steadily growing the number of clients who want their own Jira Cloud instance and as the expert, they can provide them with the solution.
Results Recap
Cost optimization
Bulletproof data security and autonomy between systems
Flexibility in the sense of data sharing
Efficient internal and external ticket handling
As companies grow bigger and their collaboration becomes more extensive, the need to sync data seamlessly becomes more and more inevitable. With the right solution, they can save time, money, and resources and of course enjoy the ease of communication without having to worry about data security. This will all lead to having stronger teams, smoother workflows, and more productivity.
Become an Exalate user and experience an optimized workflow and high productivity. It's flexible and autonomous enough for almost any sync scenario.